Pour réaliser ce projet j'ai dû apprendre à dessiner une spirale, et voici comment procéder.
– Faire une boucle au bout d'une ficelle pour accueillir un crayon, et ensuite coincer la ficelle au rayon avec un goujon au travers du papier, et ensuite dans une planche martyr (image 1).
– Tourner le crayon autour du goujon, tout en gardant la ficelle tendue, pour entourer ce dernier et ainsi raccourcir sur le parcours (images 2 et 3).
            (Cliquez sur les photos pour les agrandir sur une autre page)
To make this project I had to learn how to draw a spiral, and here's how to proceed.
– Tie a loop at the end of a twine for a pencil, and then wedge the radius of the twine with a dowel through a sheet of paper, then in a sacrificial board (picture 1).
– Spin the pencil around the dowel, while keeping the twine tight, to surround this latter thus shorten on its path (pictures 2 &.3)
            (Click on pictures to enlarge on another tab)
---
Une fois mon rayon initial établi et dessiné, le mien, arbitraire, étant de 1-5/8″ (41 mm), j'ai tracé et découpé la partie restante du levier. Ainsi, ma pince aura 5/8″ (15 mm) de jeu (flèches).
Once my initial radius established and drew, mine, arbitrary, being 1-5/8″ /41 mm), I drew and cut the remaining part of the clamp. Therefore, my clamp will end up with a 5/8″ (15 mm) play (arrows).
---
J'ai copié mon patron sur du mince MDF pour faire un gabarit à utiliser sur la table à toupie.
I copied my pattern on thin MDF to make a jig to use on a router table.
---
La coupe de la ligne droite au banc de scie avec mon traîneau maison (lien) et ensuite à la scie à ruban.
The straight line cut on the table saw using my homemade sled (link) and then on the band saw.
---
Les courbes de ce dernier doivent être très précises sinon les défauts seraient reproduits.
The curves of this latter must be very precise otherwise defects will be reproduced.
---
J'ai choisi du contreplaqué de merisier baltique sur lequel j'ai tracé le périmètre, que je découpe un peu plus grand. À bien y penser, peut-être que du bois mou aurait été préférable pour une meilleure prise.
I've chosen Baltic birch plywood on which I traced the perimeter, that I cut a bit larger. After a second thought, perhaps soft wood would have been suitable for a better grip.
---
Ensuite la table à toupie et une fraise à copier.
Then the router table and a pattern bit.
---
Après le ponçage final à la main, j'arrondie les bords, de la poignée uniquement, avec une fraise 1/8″ (3 mm).
After hand sanding, I round over the edges, handle side only, with a 1/8″ (3 mm) bit.
---
Après avoir fabriqué et coupé mes propres goujons (lien de ma méthode), je m'assure que les extrémités sont d'équerre.
After milling and cutting my own dowels (link to my method), I make sure the ends are square.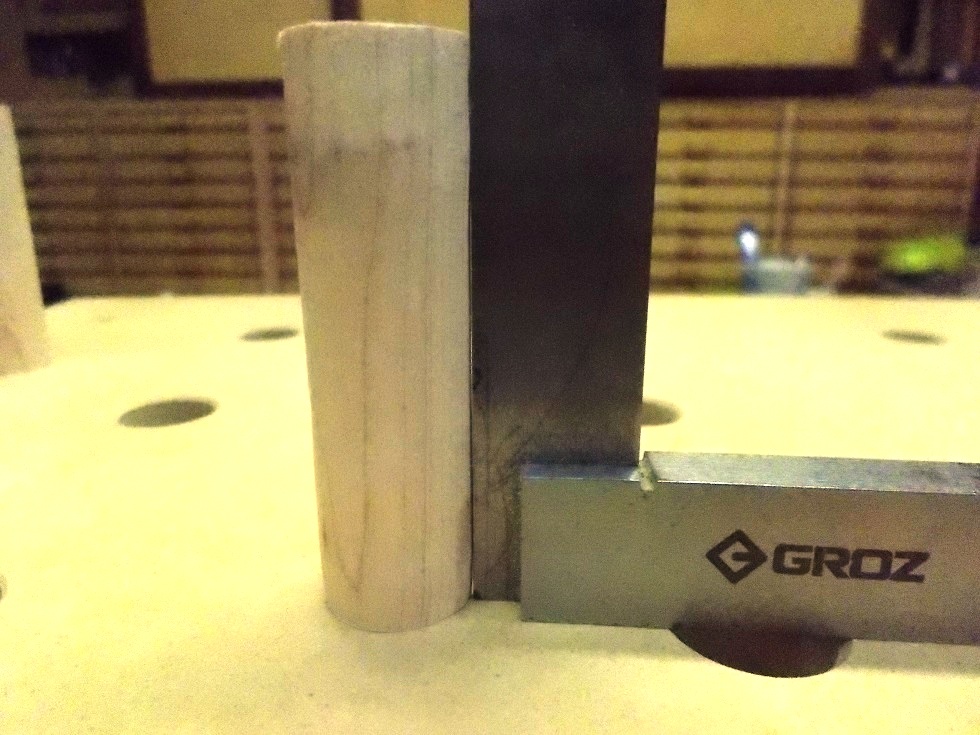 ---
J'aligne la pointe d'un foret Forster avec le trou de la vis  pour réaliser les lamages du même diamètre que mes goujons.
I'm aligning the Forstner bit tip with the screw hole to counterbore the same diameter as my dowels.
---
Deux astuces :
1 – Pour faciliter l'alignement de la pointe du foret avec le trou (penser vision double), je soulève la pièce pour les marier, je presse le levier de la perceuse à colonne pour asseoir la pièce sur le plateau, et je maintiens fermement la pièce pour le lamage.
2 – Puisque je dois percer/forer des avant-trous à une extrémité des goujons, lesquels pourraient ne pas être au même endroit, les numéroter m'évitera des problèmes.
Two tips :
1 – To ease alignment of the bit center with the hole (think double vision), I raise the workpiece to mate them, pull down the drill press lever to sit the workpiece onto the table, and firmly hold the workpiece to counterbore.
2 – Since I must drill pilot holes on one end of the dowels, which could be differently located, numbering them will prevent problems.
---
Après avoir percé et fraisé, j'étend la colle au fond et autour du lamage avec un bâtonnet.
After drilling and countersinking, I spread the glue on the bottom and all around the counterbore using a tiny stick.
---
Ce que je craignais est survenu, des goujons ont fendus, raison pour laquelle j'ai fait des lamages, que j'ai percé des avant-trous, et que j'ai utilisé la colle polyuréthane parce que celle-ci mousse et rempli les cavités (flèches) après 24 heures, tel que montré (droite). J'ai aussi fait l'erreur d'utiliser un foret biseauté au lieu de cylindrique pour correspondre à mes vis.
What I was afraid of happened, some dowels have split, reason why I counterbored, drilled pilot holes, and used polyurethane glue because this latter expands and fills cavities (arrows) after 24 hours, as shown (right), I also made the mistake of using a tapered drill bit instead of a cylinder one to match my screws.
---
J'ai maintenant sous la main quatre nouvelles pinces pour ma table MFT.
Now I have four new clamps on hand for my MFT table.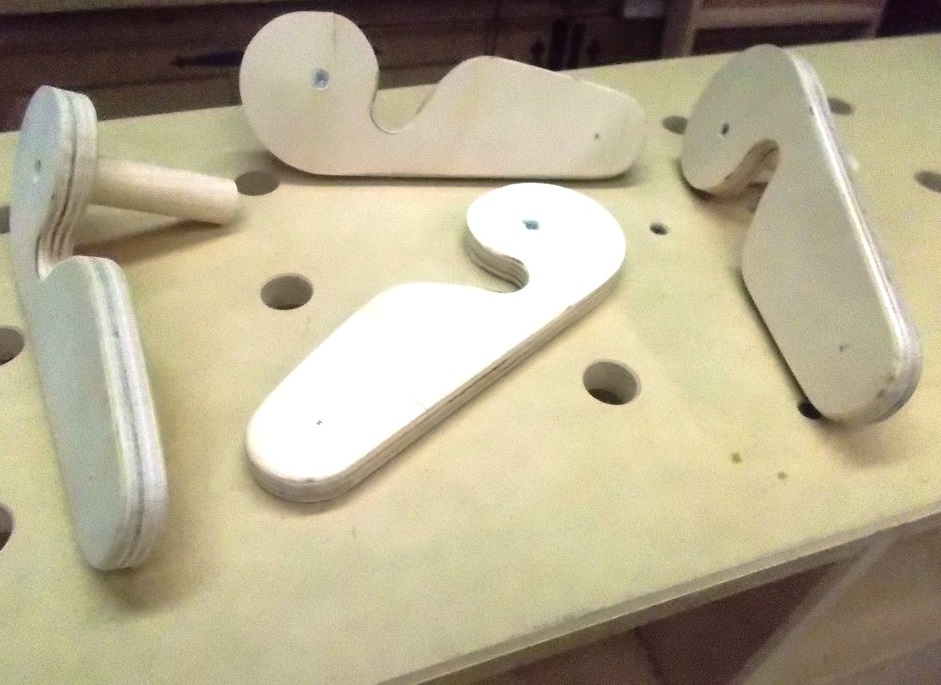 ---
Tel que montré, une pièce prise entre une butée (1) et une de ces pinces, je peux soulever ma table MFT d'établi faite de MDF (2).
As shown, a workpiece squeezed between a bench dog (1) and one of those clamps, I can lift my benchtop MFT table made out of MDF.
---
Pour votre gouverne, chers lecteurs abonnés, voici une photo (votre choix) que vous pourrez imprimer afin de réaliser votre propre gabarit.
For you to enjoy, dear followers, here's a photo (your choice) you can print to make yourself a template.
---
---
Soyez avisé ! Inscrivez-vous gratuitement (colonne droite).
Soyez toujours prudent et bon bricolage !
Be wise/notified ! Register for free (right column).
Always be careful and Happy Woodworking !
---
Pour en apprendre ou en voir plus, cliquez sur l'onglet approprié tout en haut de cette page, ou dans la sélection de la colonne à droite.
To learn or see more, click on the appropriate tab at the very top of this page, or on the right column selection.
---