Au Québec nous recevons une bonne quantité de neige en hiver, raison pour laquelle je veux renforcer le toit mes deux abris légers, un pour le bois de chauffage et l'autre pour la souffleuse l'hiver et mon quadriporteur l'été.
            (Cliquez sur les photos pour les agrandir sur une autre page)
In Quebec we get quite a good amount of snow during winter, reason why I want to beef up the roof of my two light shelters, one for firewood and the other for my snow blower in winter and my mobility scooter in summer.
            (Click on pictures to enlarge on another tab)
---
Dans des languettes coupées plus longues que requises, j'ai percé et coupé une extrémité dans mon atelier, et répété à l'autre extrémité sur place, ayant accès leur longueur exacte.
In strips cut longer than required, I drilled and cut one end in my shop, then repeated the on the other end on the site, having access to their exact length.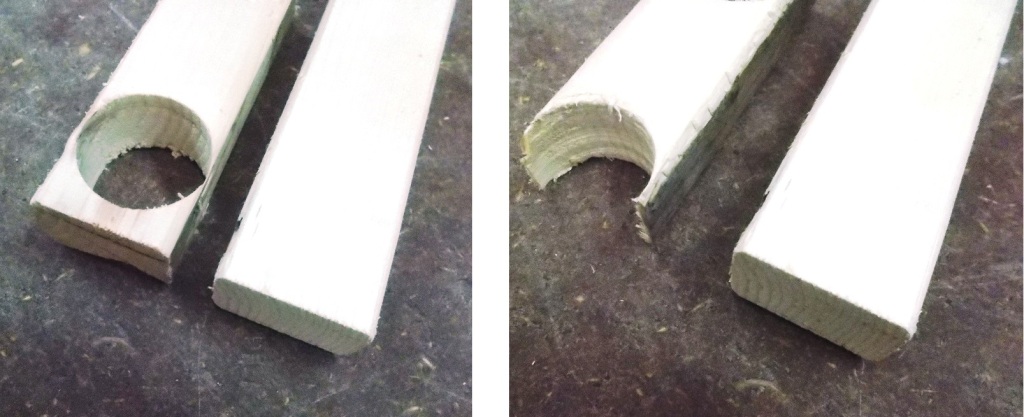 ---
Les extrémités sont coincées entre les poteaux/tuyaux d'acier, tel que montré.
Remarquez qu'au côté droit j'ai ajouté une pièce de chambre à air (flèche) parce qu'un peu trop court (Oups !).
The ends are squeezed between the steel posts/pipes, as shown.
Notice on the right side that I added a piece of inner tube (arrow) because it was a bit short (Oops!).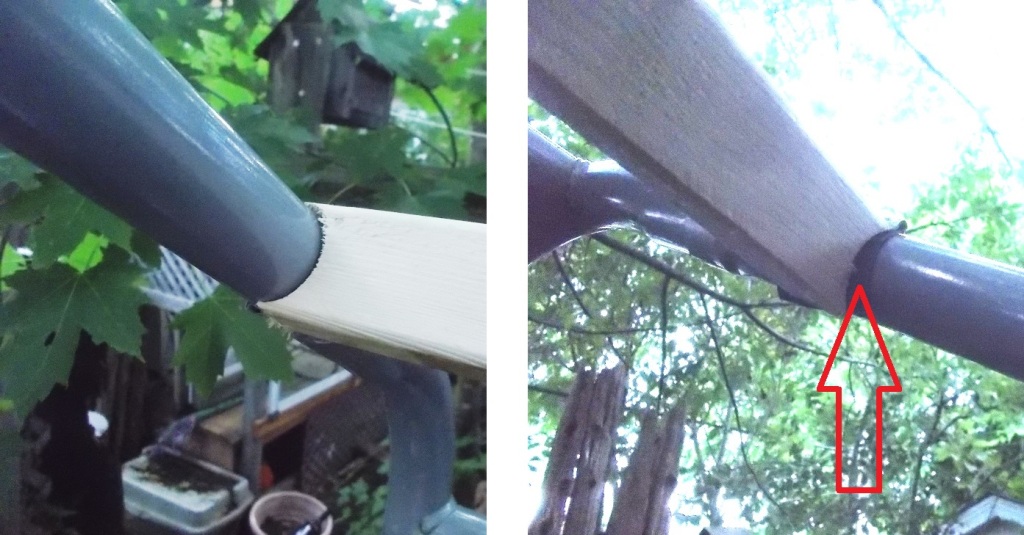 ---
Une fois installés, j'ai aussitôt mesuré les distances approximatives, et de retour dans l'atelier, j'ai coupé, collé et vissé deux cadres identiques.
Once installed, I measured the approximate distance at once, and back In the shop, I cut, glued and screws two identical frames.
---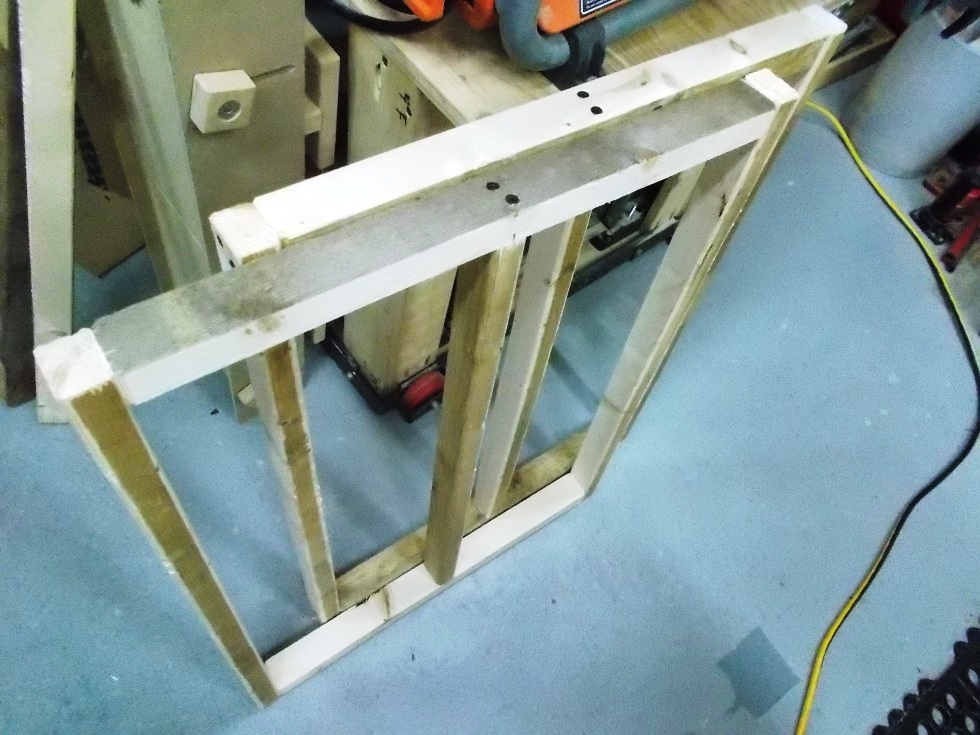 ---
Mon plateau à colle (lien) est très utile.
My gluing tray (link) is quite useful.
---
J'ai coupé, tendu et agrafé une grille de clôture à neige de plastique, ou coupe-vent, sur les cadres.
I cut, stretched and stapled plastic snow fencing, or windbreak mesh, onto the frames.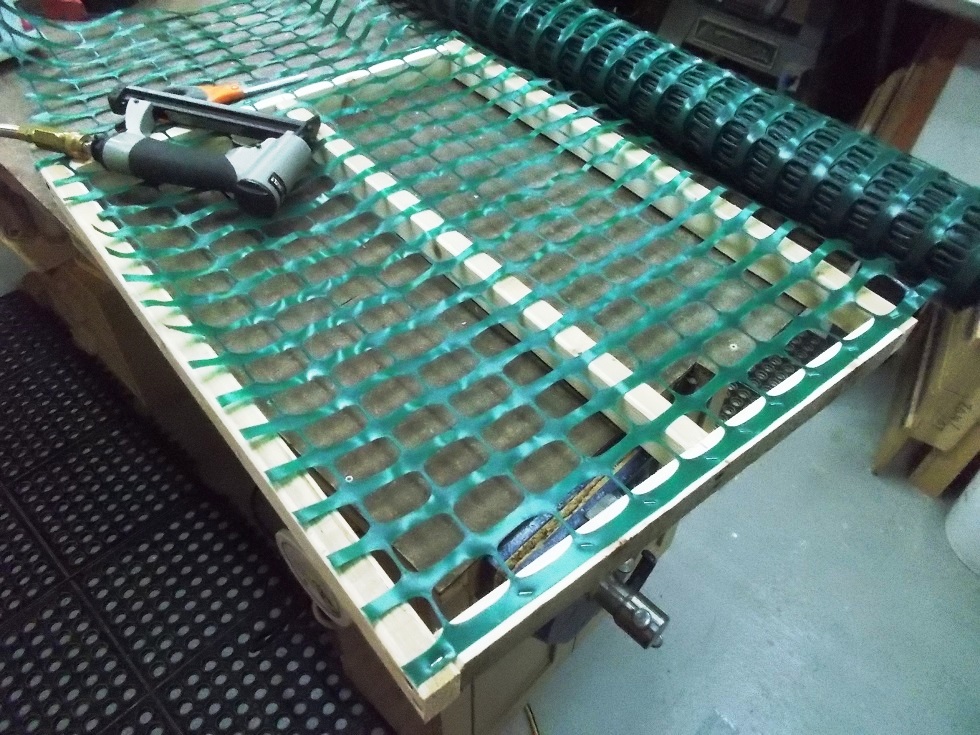 ---
Cette pince (flèche) est excellente pour tendre ce produit.
This pliers (arrow) is excellent to stretch this product.
---
Le filet est solidement tendu dans toutes les directions.
The mesh is strongly stretched in all directions.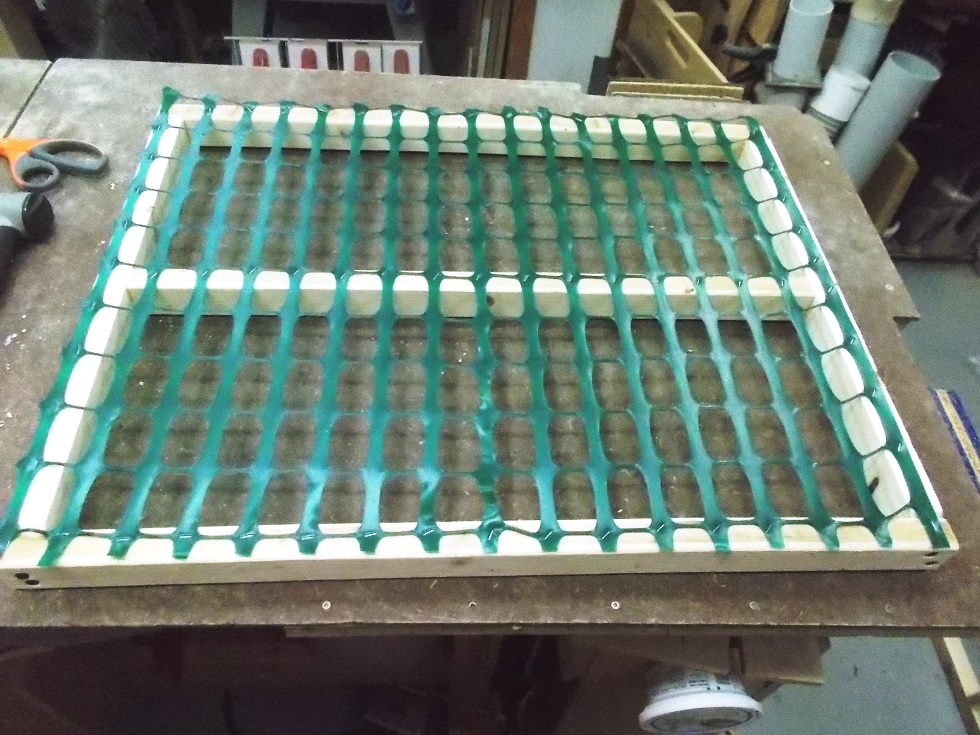 ---
J'ai percé des avant-trous dans l'atelier pour faciliter l'installation sur place.
I drilled pilot holes in the shop to ease the on the site installation.
---
Cet ajout devrait aider la toile à supporter la neige davantage. Maintenant la toile pour couvrir le tout.
This addition should help the tarp supporting the snow further more. Now the tarp to cover it all.
---
Soyez avisé ! Inscrivez-vous gratuitement (colonne droite).
Soyez toujours prudent et bon bricolage !
Be wise/notified ! Register for free (right column).
Always be careful and Happy Woodworking !
---
Pour en apprendre ou en voir plus, cliquez sur l'onglet approprié tout en haut de cette page, ou dans la sélection de la colonne à droite.
To learn or see more, click on the appropriate tab at the very top of this page, or on the right column selection.
---