Pour ces coupes en angle, j'aime bien utiliser ma scie radiale ainsi qu'un gabarit de dessinateur pour régler méticuleusement angle requis.
            (Cliquez sur les photos pour les agrandir sur une autre page)
For such angle cuts, I like to use my radial arm saw as well as a drawing template to meticulously set the required angle.
            (Click on pictures to enlarge on another tab)
---
Je commence par un test avec du MDF. Ici la butée (flèche) est indispensable pour l'uniformité.
I'm beginning with a test on MDF. Here a stop block (arrow) is indispensable for uniformity.
---
Le test étant concluant, je procède avec le projet, et j'identifie les joints pour marier le grain du bois (question de choix).
The test being conclusive, I proceed with project, and I mark the joints to match the wood grain (it's a matter of choice).
---
J'ai tracé une ligne (flèches) pour indiquer la limite où enfoncer des clous.
Remarquez que l'ensemble est assujetti sur l'étable.
I've traced a line (arrows) to show the limit where to drive the nail.
Notice the assembly clamped onto the workbench.
---
Et le collage acrobatique !
And the acrobatic glue up!
---
---
À la table à toupie (défonceuse), je règle le guide de façon à éviter les clous.
Pour éviter les disgracieux éclats ou arrachements à la sortie, ici à remarquer le fait que j'ai fait une courte rainure ou entaille (± le diamètre de la fraise) au sens inverse de rotation de la fraise, depuis la gauche, tout en étant conscient que je dois maintenir l'ensemble fermement. La flèche indique le minimum d'éclats produits, ce qui est très peu ici.
At the router table, I set the fence in a matter of missing the nails.
To prevent tearouts on the exit, notice here the fact that I made a small groove or notch (± the diameter of the bit) against the bit rotation, from the left, while being conscious to firmly hold the assembly. The arrow shows the minimum tearouts produced, what is not much here.
---
Un tel dessous est inévitable parce que j'ai utilisé une fraise en spiral, mais disparaîtra au ponçage.
Such bottom is inevitable because I used a spiral bit, but it will disappear after sanding.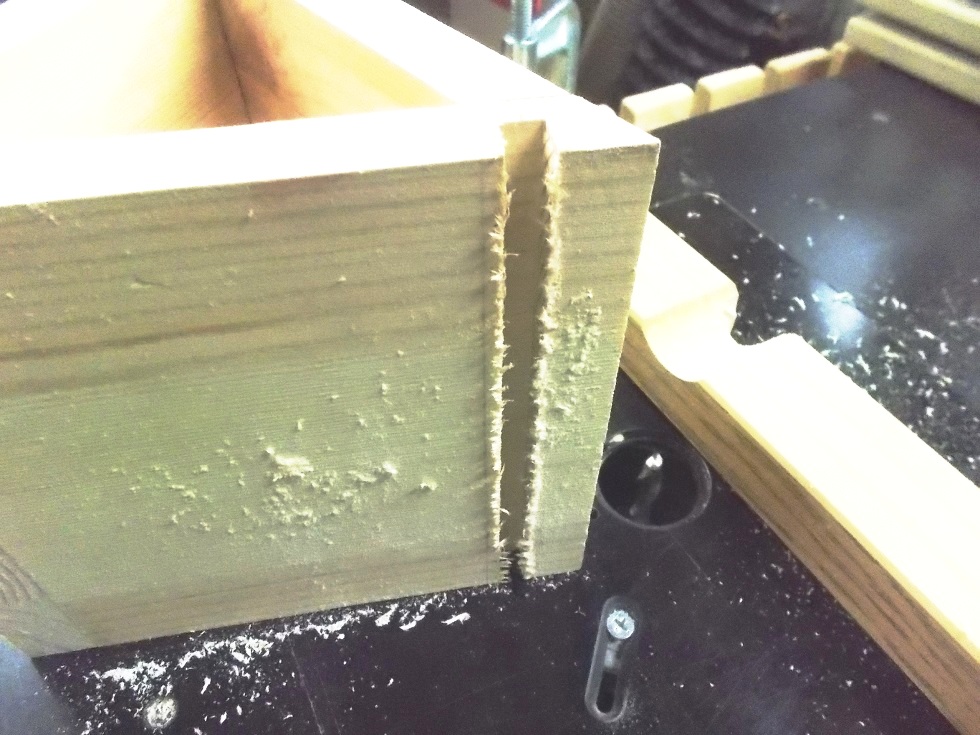 ---
Pas d'éclats des deux côtés, ni dessous.
No tearouts on both sides, neither on the bottom.
---
J'utile une gauge de même dimension que la fraise pour régler le guide parallèle du banc de scie.
I'm using a set-up bar the same diameter as the router bit to set the table saw fence.
---
Un léger ponçage et c'est impeccable.
A light sanding and it's impeccable.
---
Le ponçage final. Oups, j'avais poncé l'intérieur avant le collage.
The final sanding. Oops, I did sand the interior before the glue-up.
---
Remarquez que j'évite la colle aux extrémités.
Notice that I avoid glue at the ends.
---
À gauche, ma teinture maison au vinaigre et laine d'acier,  et à droite après quelques couches de poly, ayant pris soin de brosser avec un papier d'artisanat entre chaque couche.
On the left, my homemade steel wool and vinegar stain, and at right after few coats of poly, taking care to buff between each coat with heavy craft paper.
---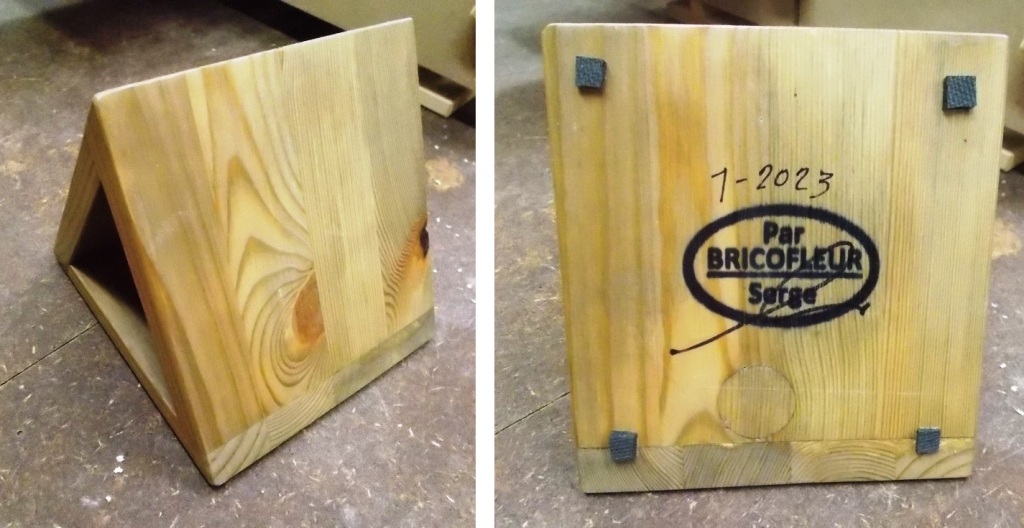 ---
Le premier pour mon amie qui est venue les réaliser avec moi, le deuxième pour ma fille aînée qui adore la lecture et la troisième pour moi, amateur de Sudoku (remarquez mon crayon et mes verres), mais j'ai décidé de le donner à ma petite-fille, laquelle tout comme sa mère, aime lire.
The first for my friend who came over to make them with me, the second for my oldest daughter who likes reading a lot, and the third for me, fan of Sudoku (notice pencil and my eyeglasses), but I decided to give it to my grand-daughter who also loves reading, as her mother does.
---
---
---
Soyez avisé ! Inscrivez-vous gratuitement (colonne droite).
Soyez toujours prudent et bon bricolage !
Be notified ! Register for free (right column).
Always be careful and Happy Woodworking !
---
Pour en apprendre ou en voir plus, cliquez sur l'onglet approprié tout en haut de cette page, ou dans la sélection de la colonne à droite.
To learn or see more, click on the appropriate tab at the very top of this page, or on the right column selection.
---