À cause de ma vision est double (Diplopie), j'aime bien utiliser ce niveau de poteau pour percer à la verticale dans une telle pièce.
            (Cliquez sur les photos pour les agrandir sur une autre page)
Because of my double vision (Diplopia), I like to use this post level to drill vertical in such a piece.
            (Click on pictures to enlarge on another tab)
---
J'ai commencé par un petit diamètre, pour ensuite agrandir le trou jusqu'au calibre de ce taraud correspondant au pied ajustable préalablement montré.
I've started with a smaller diameter, and then larger ones until the correspondent size for my tap tool was achieved for the previously shown adjustable foot.
---
---
Une fois les filets formés, j'ai ajouté une colle instantanée (CA) pour les renforcer.
Once the threads formed, I added instant glue (CA) to reinforce them.
---
Vient le travail minutieux d'excaver pour un écrou.
Comes the tedious work of excavating for a nut.
---
J'ai enduit les filets de graisse (flèche) parce que j'ai ajouté la colle CA tout autour de l'écrou, et ce afin de ne rien figer.
I've spread grease on the threads (arrow) because I've added CA glue around the nut, thus preventing from locking.
---
Je colle et vis le pied sur le contreplaqué pivotant.
I'm gluing and screwing the leg onto the pivoting plywood.
---
---
Voici le pied bien assis au sol lors du déploiement, et, tel que montré par ce coin temporaire, flottant lors du retrait.
Here's the foot sitting on the floor while deployed, and, as shown by this temporary wedge, floating when retracted.
---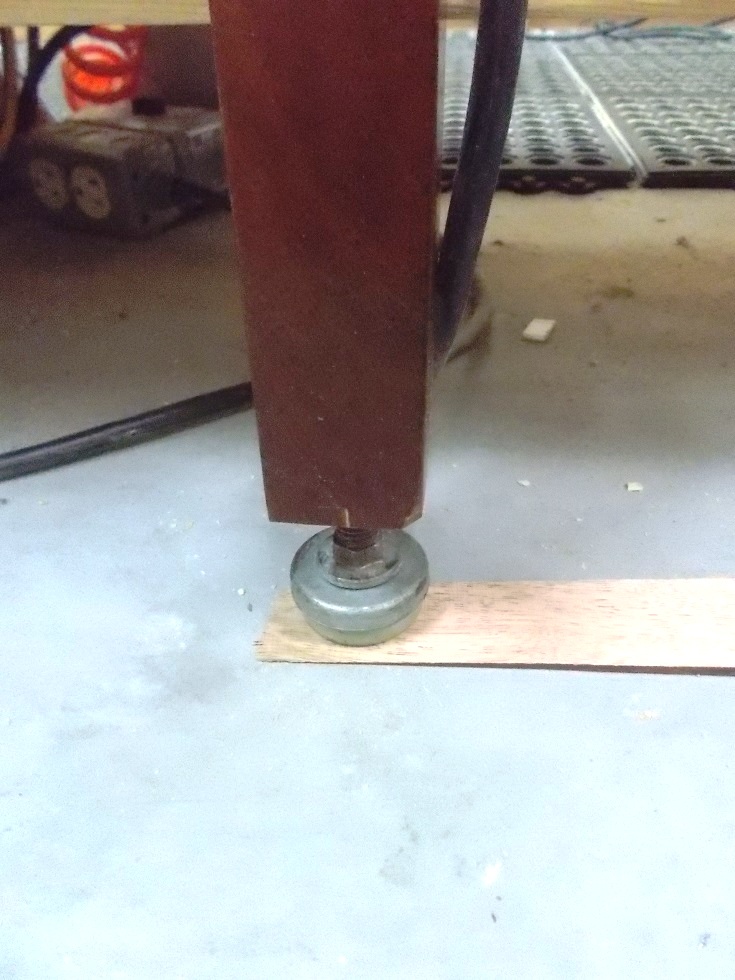 ---
Une fois encore, j'utilise une pièce d'un projet qui ne me sert plus.
Tel que montré ici, j'ai improvisé un gabarit sur pivot pour couper un cercle, à l'aide d'une fraise droite (flèche) montée dans la table à toupie, et ce par multiples passes minces.
Once again, I'm using a part from a no more needed project.
As shown here, I improvised a pivoting jig to cut a circle, using a straight bit (arrow) mounted on my router table, and that by several thin passes.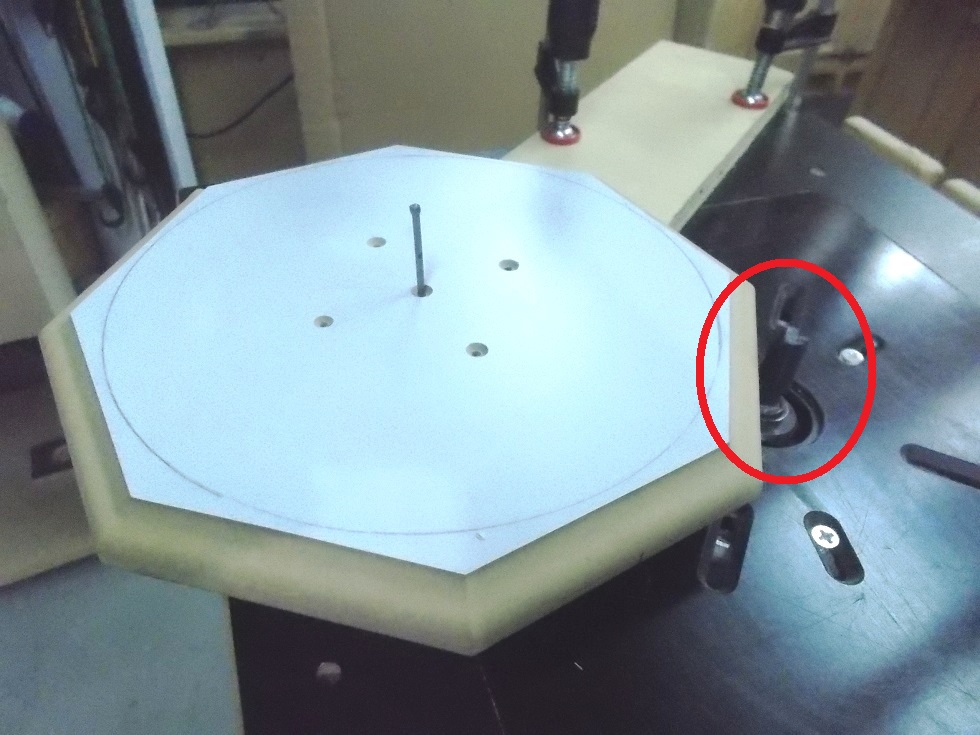 ---
Puisqu'il s'agit de MDF, je préfère utiliser mon capot maison pour aspirer sa fine et vilaine poussière.
Since this is MDF, I rather use my homemade shroud to suck its nasty fine dust.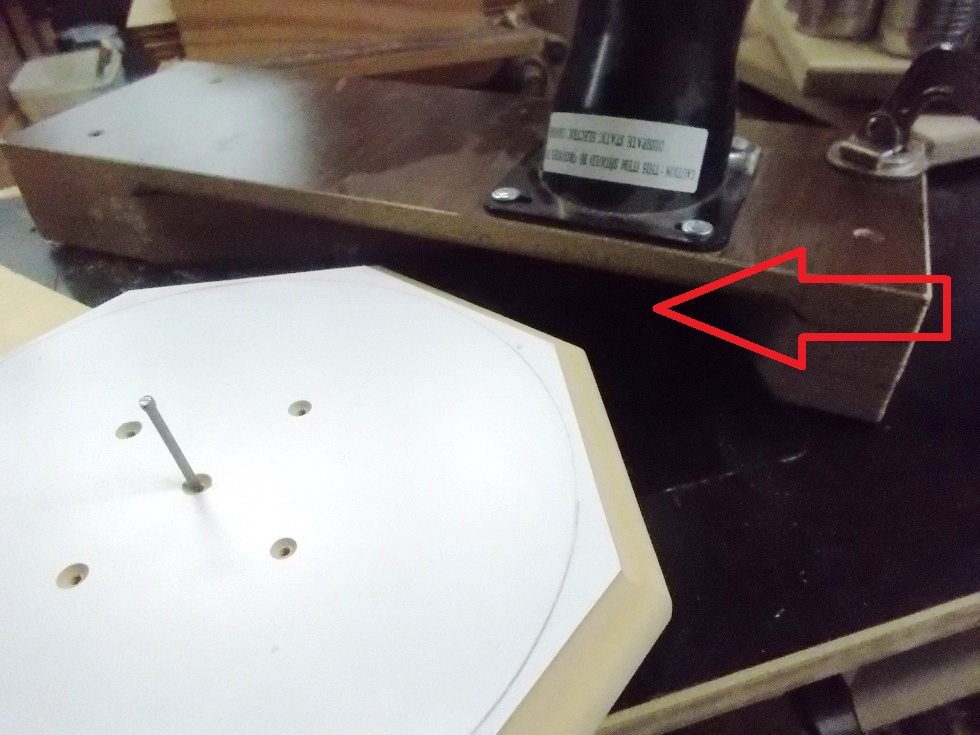 ---
Pas parfait vu les circonstances (hexagone), mais très décent.
Not perfect according the circumstances (hexagon), but quite decent.
---
Après chaque usage je nettoie mes fraises. Et vous ?
After each use, I clean my bits. Do you?
---
Enfin le rembourrage : une mousse de tapis yoga, l'envers d'un vieux jeans et beaucoup de broches !
At last the upholstery : a yoga mat foam, the back side of an old jeans, and lots of staples!
---
---
Ce fût plaisant, et digne d'un homme du métier, n'est-ce pas ?
If was fun, and as the trade master like, isn't it?
---
En traçant le jeans avec un tel marqueur, il sera plus facile de localiser où enfoncer les vis depuis le dessous, et ce à genoux.
By marking the jeans with such marker, it'll be easier to locate where to drive the screws from under, down on my knees.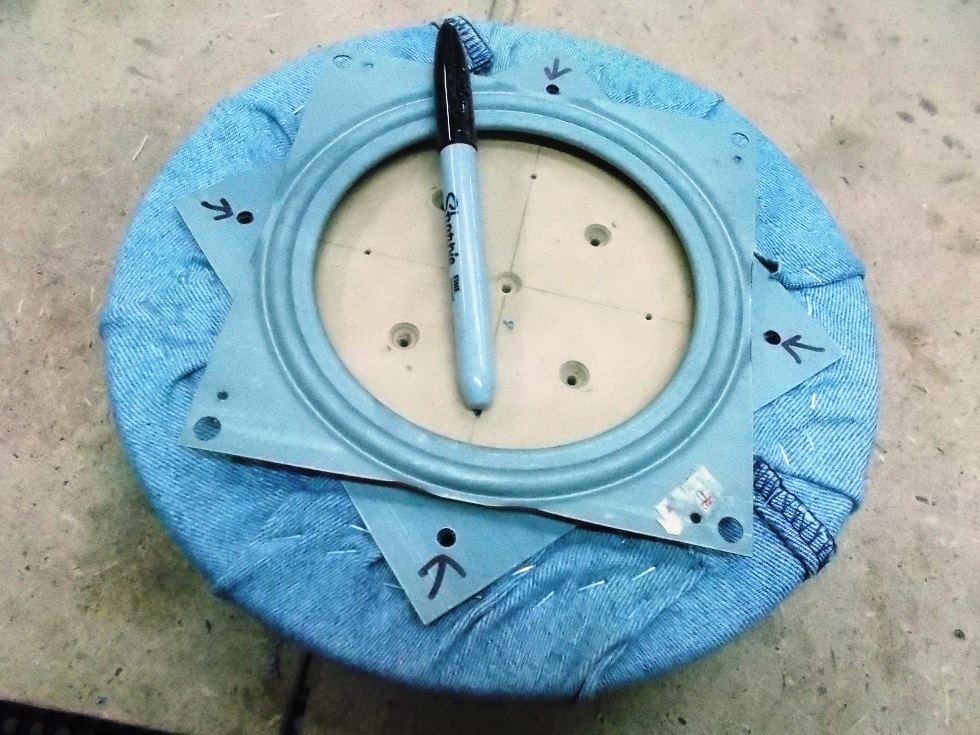 ---
Voilà ce qui pour moi sera très pratique pour des tâches précises et/ou longues, et aussi pour mon âge.
Here's what for me will be quite handy for precise and/long lasting tasks, as well as for my age.
---
---
Soyez avisé ! Inscrivez-vous gratuitement (colonne droite).
Soyez toujours prudent et bon bricolage !
Be notified ! Register for free (right column).
Always be careful and Happy Woodworking !
---
Pour en apprendre ou en voir plus, cliquez sur l'onglet approprié tout en haut de cette page, ou dans la sélection de la colonne à droite.
To learn or see more, click on the appropriate tab at the very top of this page, or on the right column selection.
---