Pour supporter mon banc, J'ai ajouté cette pièce de contreplaqué avec charnière, laquelle j'ai récupérée d'un ancien projet, et fixé sur le pied de mon établi, près de l'étau (mon choix).
Une fois encore, un projet pour lequel je n'utilise que ce que j'ai sous la main.
            (Cliquez sur les photos pour les agrandir sur une autre page)
To support my bench, I added this hinged plywood piece, which I salvaged from a former project, screwed onto a leg of my workbench, close to the vise (my choice).
Once again, another project for which I only use what I have on hand.
            (Click on pictures to enlarge on another tab)
---
---
Je trace un profil qui me semble agréable.
I'm drawing what should be a pleasant profile.
---
J'ai réalisé sous cette dernière cette rainure pour assurer la solidité.
I milled this groove under the latter to ensure solidity.
---
Ensuite la découpe à la scie à ruban et le ponçage des champs.
Then the cuts at the band saw and the edges sanding.
---
---
---
Pour mon confort, j'adouci les bords avec cette fraise à arrondir 1/8″ (3 mm).
For comfort, I'm smoothing out all the edges using this 1/8″ (3 mm) rounding over bit.
---
À bien y penser, je vais ajouter cette pièce supplémentaire (flèche) pour augmenter la rigidité, ce qui veut dire devoir réaliser une autre rainure, et ensuite colle et serre-joints.
After a second thought, I will add this additional part (arrow) to put more rigidity, meaning having to mill another groove, then glue and clamps.
---
---
---
J'utilise mon gabarit à l'aveugle maison (lien) (flèche) pour localiser et indiquer l'emplacement (cercles) de la pièce supplémentaire.
À noter en bas à gauche le trou requis pour accéder aux vis qui fixeront un plateau tournant.
I'm using my homemade blind jig (link) (arrow) to locate and mark the position (circles) of the additional part.
Notice the required hole on the lower left corner to access a Lazy Susan.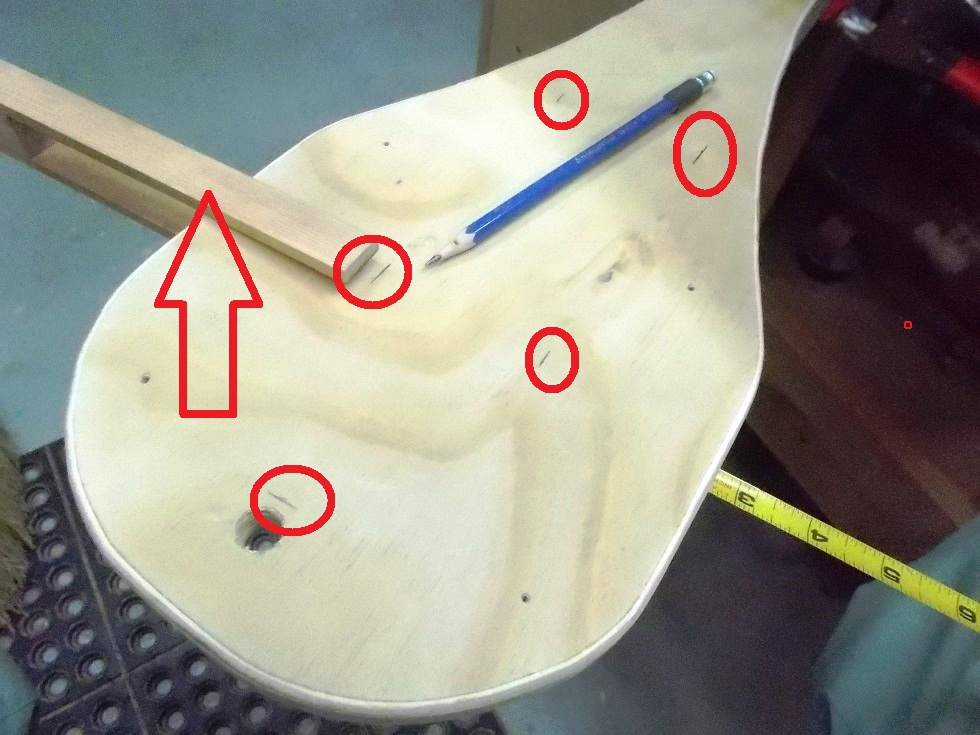 ---
J'ai percé des avant-trous, collé et vissé le support principal du siège par le dessous.
I drilled pilot holes, glues and screwed the main support for the seat from under.
---
Ce plateau tournant permettra au siège de pivoter. Un petit luxe !
This Lazy Susan will allow the seat to pivot. A bit of luxury!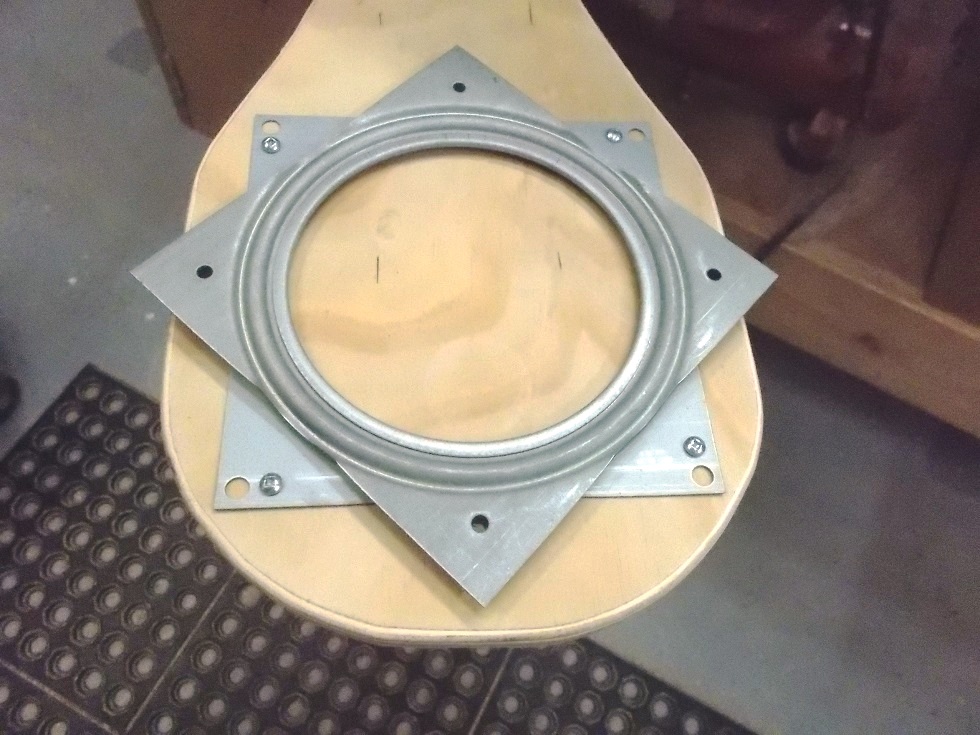 ---
Pour encore plus de rigidité, voulant adjoindre un pied, j'avais l'idée d'utiliser cette roulette pivotante, mais puisque le plancher de béton est inégal, un modèle ajustable est préférable dans ce cas-ci.
For more rigidity, having in mind adding a leg, I had the idea of using this pivoting caster, but because the concrete floor is uneven, an adjustable foot is better in this situation.
---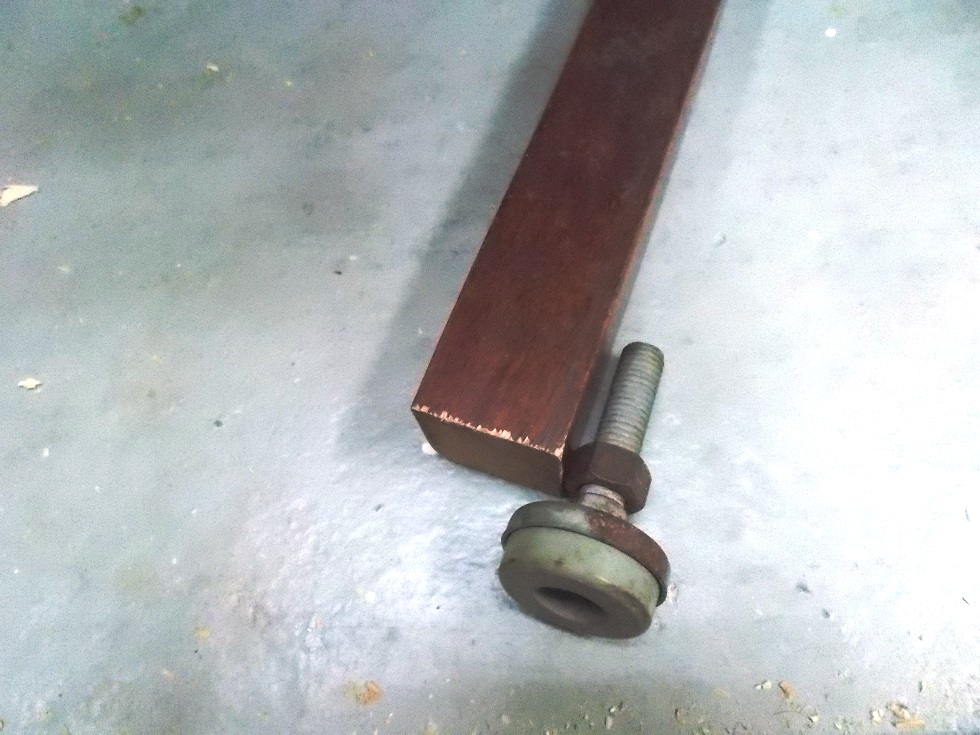 ---
---
Finalement je trace et je découpe un épaulement à la scie à ruban, et ce pour un meilleur support.
Finally, I mark and cut a shoulder on the band saw, thus for a better support.
---
---
À suivre…
Inscrivez-vous gratuitement en haut à droite pour être avisé.
To continue…
Register free at the upper right to be notified.
---
Pour en apprendre ou en voir plus, cliquez sur l'onglet approprié tout en haut de cette page, ou dans la sélection de la colonne à droite.
To learn or see more, click on the appropriate tab at the very top of this page, or on the right column selection.
---