J'ai déplacé l'armoire du mur derrière mon tour à bois afin de rassembler la plupart de les outils de tournage.
            (Cliquez sur les photos pour les agrandir sur une autre page)
I moved the cabinet from the wall behind my wood lathe so I could gather most of my woodturning tools.
            (Click on pictures to enlarge on another tab)
---
J'utilise mon guide de coupe maison pour couper ce contreplaqué 3/4″ (18 mm) à dimension.
I'm using my homemade cutting guide to cut this 3/4″ (18 mm) plywood to dimension.
---
Je refends une languette de contreplaqué à 45° pour correspondre à celle du mur, laquelle supportait l'armoire.
I'm ripping a plywood strip to 45° to match the one the wall, which was supporting the cabinet.
---
---
Ayant déterminé l'emplacement de cette languette derrière le panneau de contreplaqué (flèche), je perce des avant-trous pour enfoncer 2 vis et je l'ai pendu temporairement pour vérifier sa position.
Having determined the cleat location behind the plywood panel (arrow), I'm drilling pilot holes for 2 screws and I temporarily hung it to check its position.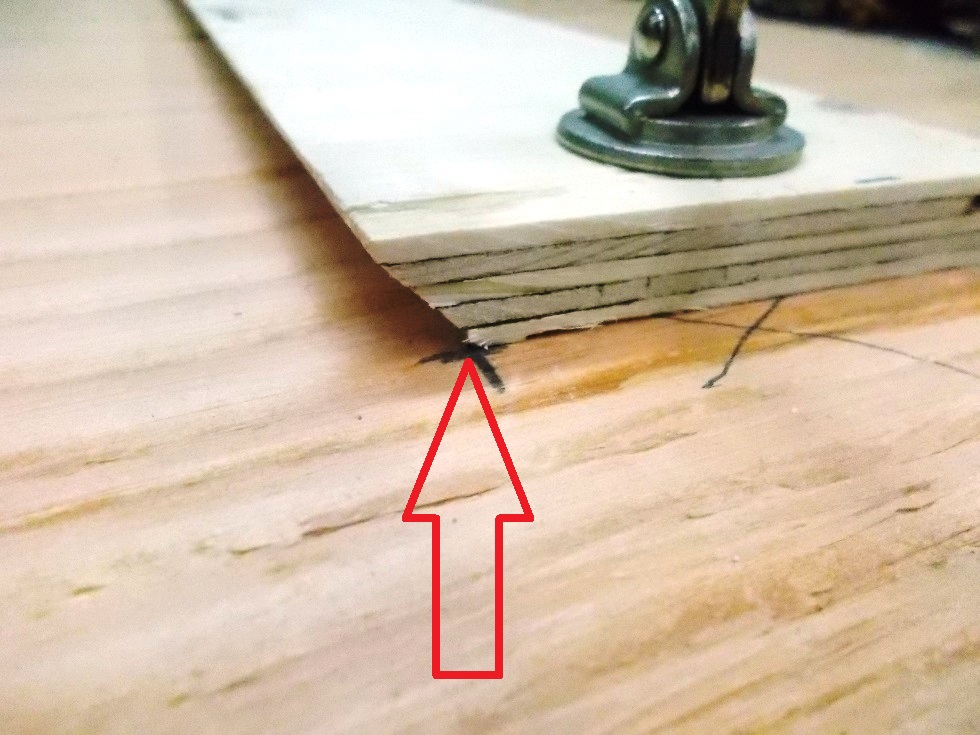 ---
---
---
Et j'ajoute plus de vis.
And I'm adding more screws.
---
Ici je trace l'emplacement des trous qui recevront les ciseaux sur 2 pièces de bois épaisses. Le diamètre des trous correspond au manche le plus gros de mes ciseaux.
Here I'm marking the location for the holes that will accept the tools on 2 thick pieces wood. The hole's diameter matches the larger handle of my tools.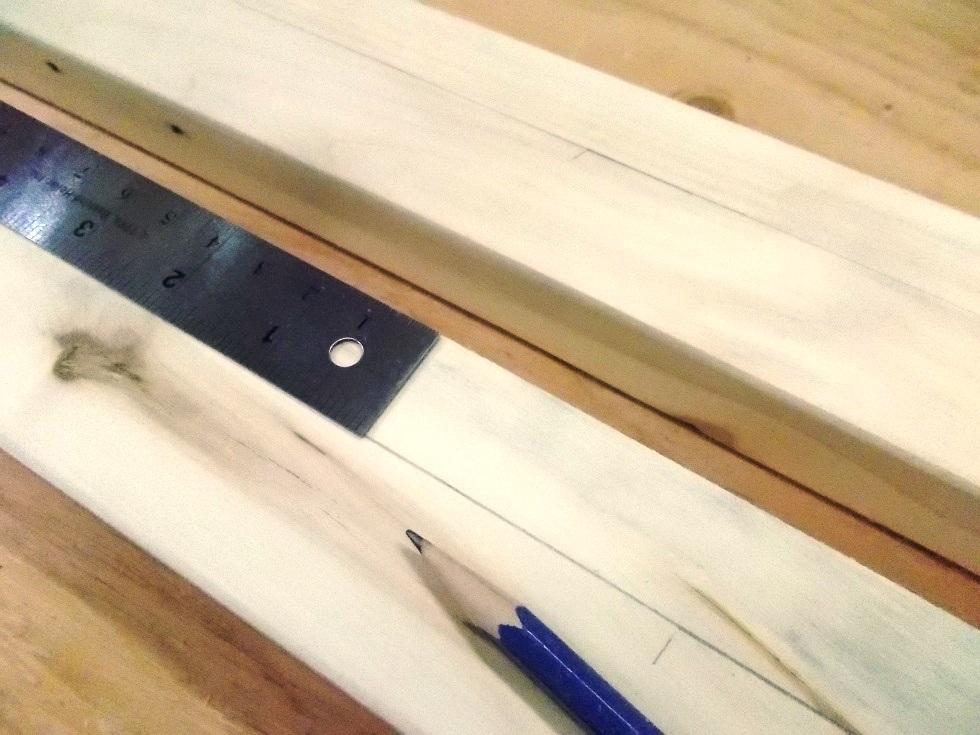 ---
---
Pour assurer l'uniformité, j'ai pincé un guide sur la table de ma perceuse à colonne (flèche 1), et utilisé une fraise Forstner pour percer les trous (flèche 2).
To ensure uniformity, I clamped a fence onto my drill press table (arrow 1), and used a Forstner drilling bit to bore the holes (arrow 2).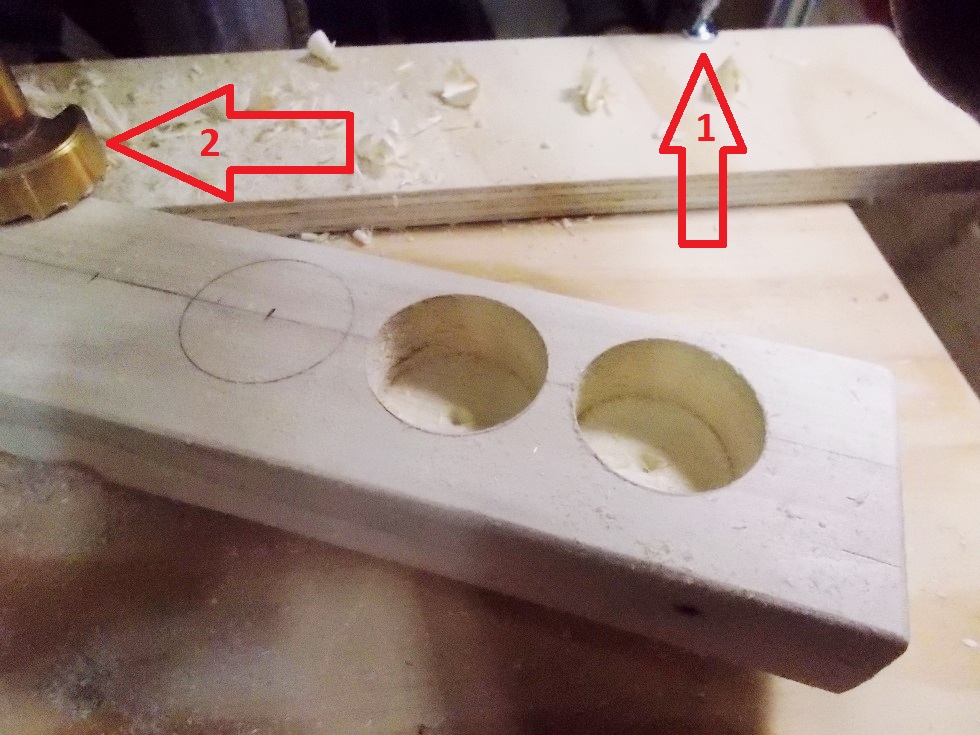 ---
Je dois maintenant déterminer leur emplacement, ce qui prend du temps, mais tellement essentiel pour maximiser l'espace.
Now I must determined their location, what takes time, but so much essential to maximize space.
---
Ici j'indique où percer les avant-trous pour les vis dans le panneau de contreplaqué pour m'assurer qu'elles soient enfoncées entre les trous.
Here I marking where to drill pilot holes into the plywood panel mo make sure they will be driven between the holes.
---
J'étends la colle, pince et retourne aussitôt le panneau pour enfoncer les vis, et ensuite éliminer les bavures de colle avec une paille de plastique.
I spread the glue, clamp and at once turn over the panel to drive the screws, and then wipe off squeeze out glue using a plastic straw.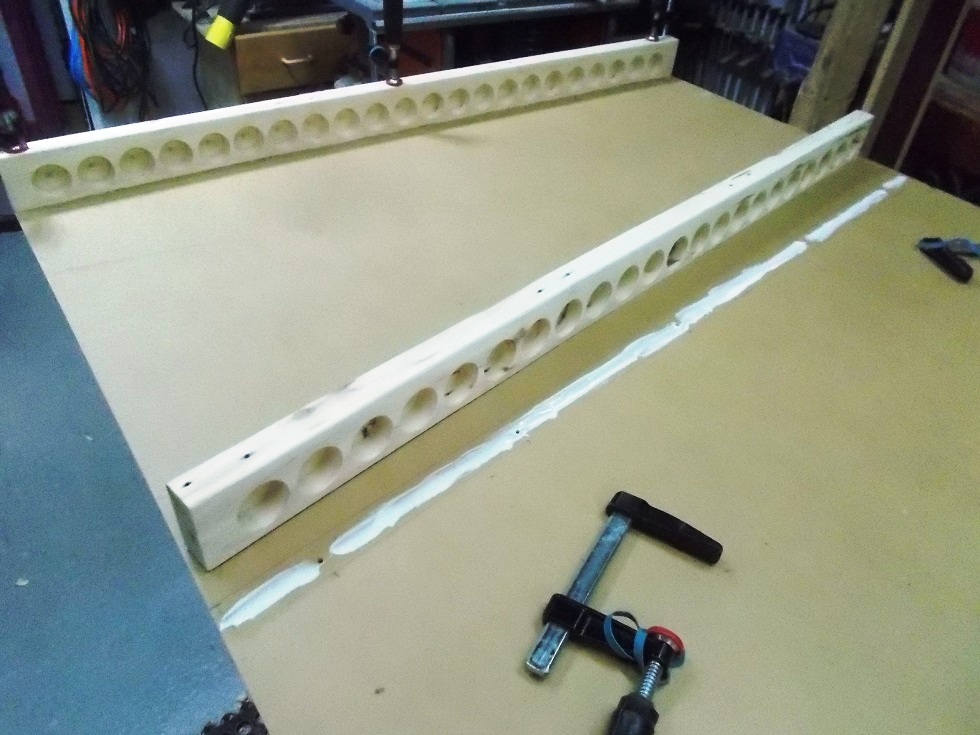 ---
---
---
Je laisse les pinces pour la nuit (cercles).
I'm leaving the clamps for the night (circles).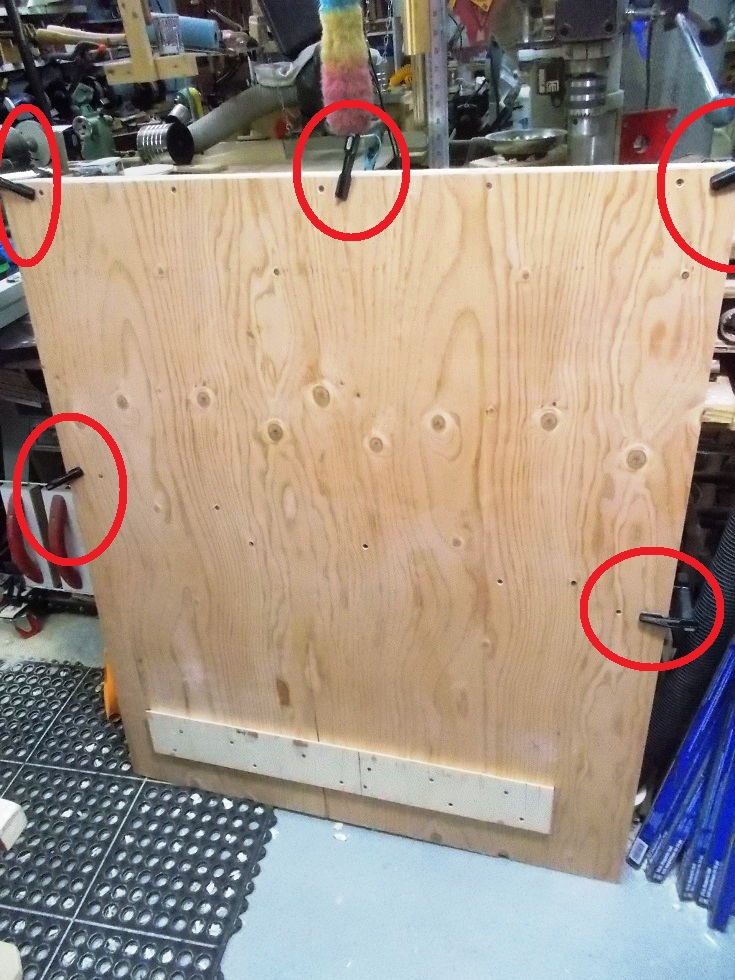 ---
---
Voici donc le résultat final, peint en blanc, duquel je suis très satisfait.
J'ai choisi ces barres magnétiques pour me faciliter la tâche.
Here is the final result, painted in white, from which I'm very satisfied.
I chose magnetic bars to make the task easier for me.
---
---
---
Soyez avisé ! Inscrivez-vous gratuitement (colonne droite).
Soyez toujours prudent et bon bricolage !
Be notified ! Register for free (right column).
Always be careful and Happy Woodworking !
---
Pour en apprendre ou en voir plus, cliquez sur l'onglet approprié tout en haut de cette page, ou dans la sélection de la colonne à droite.
To learn or see more, click on the appropriate tab at the very top of this page, or on the right column selection.
---