Ayant monté mon coffre sur un diable chariot (lien), j'ai décidé de remplacer ce dernier par des roues intégrées sur essieu (tige filetée et tuyau, tel que montré).
            (Cliquez sur les photos pour les agrandir sur une autre page)
Having mounted my chest on a hand truck (link), I decided to replace this latter by integrated wheels on axle (threaded rod and pipe, as shown).
            (Click on pictures to enlarge on another tab)
---
J'ai refendu ce support de bois pour assujettir fermement le tuyau contre l'arrière inférieur du caisson.
I ripped this wooden support block to tightly freeze the pipe against the lower back of the casing.
---
Pincé sur le caisson de mon coffre, j'aligne le support de chaque côté et perce des avant-trous passants pour des vis, lesquelles seront enfoncées depuis l'intérieur du coffre.
Clamped onto the chest casing, I align the support on each end and drill through holes for screws, which will be driven from the inside of the chest.
---
---
J'ai vite réalisé que les serre-joints (flèche) empêcheraient d'ouvrir les portes afin que je puisse enfoncer les vis depuis l'intérieur. Ma solution fût de figer temporairement le support avec de la colle chaude appliquée de chaque côté (cercles).
I soon realized the clamps (arrow) would prevent from opening the doors for me to drive the screws from the inside. My solution was to use hot glue to temporarily  secure the support applied on each side (circles).
---
---
Pendant le séchage de la colle (assez rapide), ma règle appuyée sur le caisson, j'évalue à l'œil la longueur requise de l'essieu, lequel est temporairement inséré dans son tunnel, avec une roue montée.
While the glue dries (quite quick), my ruler leaning against the casing, I'm eyeballing the axle length, this latter being temporarily inserted in its tunnel, with an installed wheel.
---
Couper cet essieu de 1/2″ (12 mm) sera facile avec mon coupe métal motorisé d'établi maison (lien).
Cutting this 1/2″ (12 mm) axle will be a cinch with my homemade benchtop power cutter (link).
---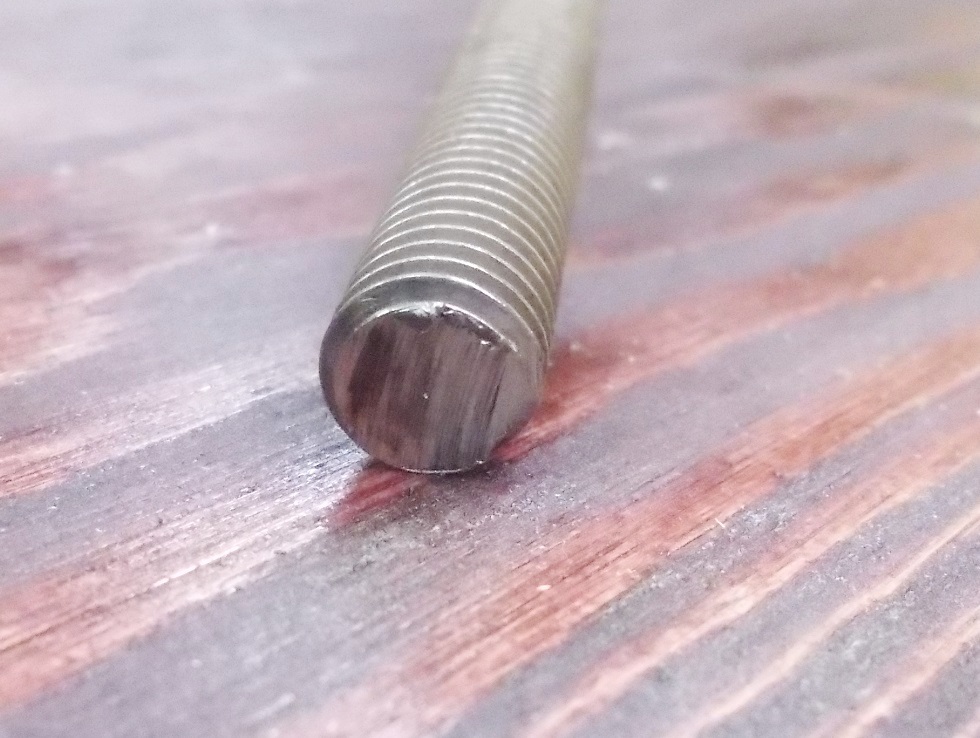 ---
Le caisson renversé, je peux enfoncer les vis depuis l'intérieur, tel que prévu.
The casing overturned, I can drive the screws from the inside, as planned.
---
Puisque l'essieu tournera à l'intérieur du tuyau, j'y ajoute une bonne quantité de graisse avant de l'insérer pour de bon.
Since the axle will spin within the pipe, I'm adding a good amount of grease before getting it in for good.
---
Chaque roue est fixée avec deux écrous et trois rondelles, fermement serrés les uns contre les autres avec deux clés (flèche).
Each wheel is secured with two nuts and three washers, firmly tighten against one another using two wrenches (arrow).
---
---
Un autre tuyau et deux pièces de contreplaqué pour la poignée de transport.
Another pipe and two plywood parts for the moving handle.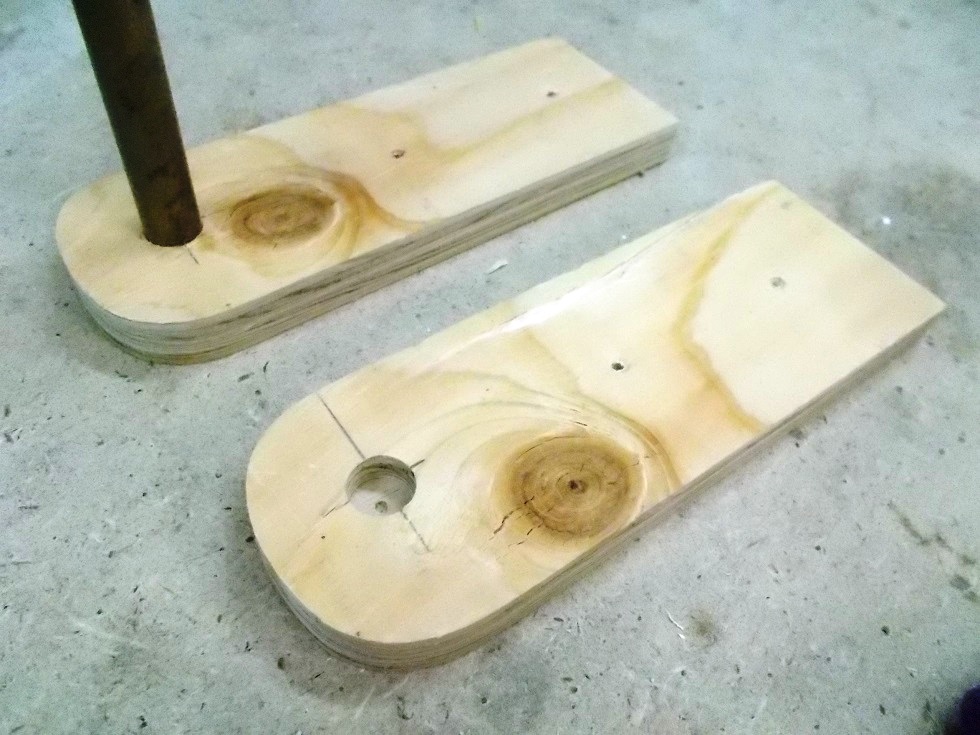 ---
Un côté étant fixé, j'utilise un coin pour marquer/déterminer l'emplacement identique de l'autre (flèche), assurant ainsi le parallélisme.
One side being fixed, I'm using a wedge to mark/determine the identical location of the other (arrow), ensuring parallelism.
---
---
Finalement, deux pieds de caoutchouc sous la barre niveleuse sous le devant du caisson.
Finally, two rubber feet under the leveling front bar.
---
Grâce à ses roues intégrées, mon coffre prend moins d'espace plancher et roule encore mieux dans l'escalier.
Because of its integrated wheels, my chest takes less floor space and rolls much better in the stairs.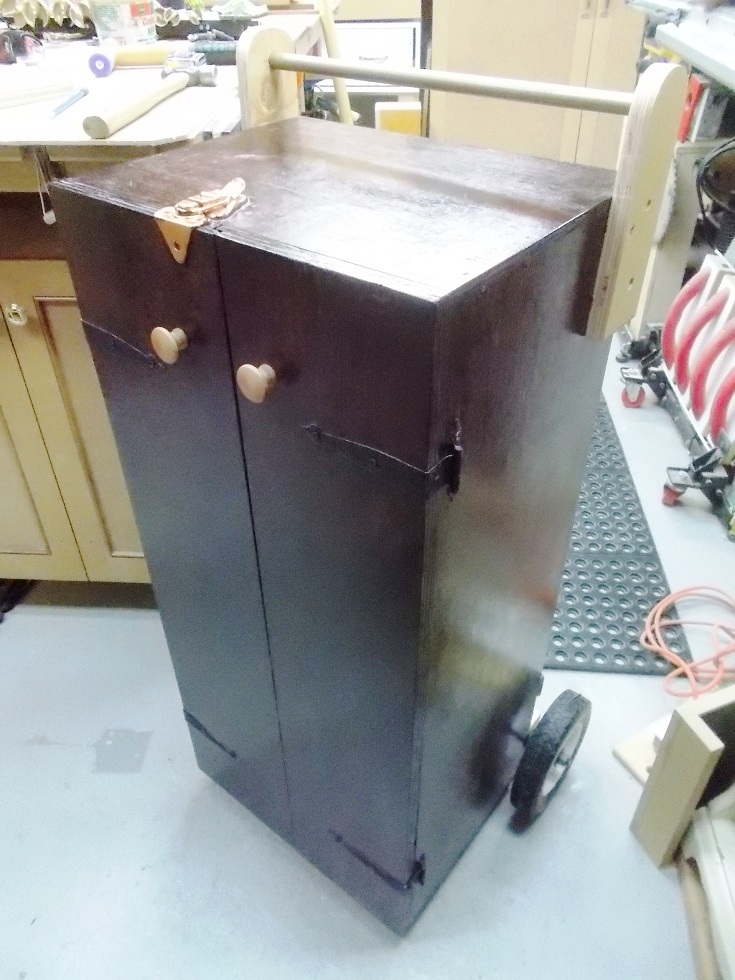 ---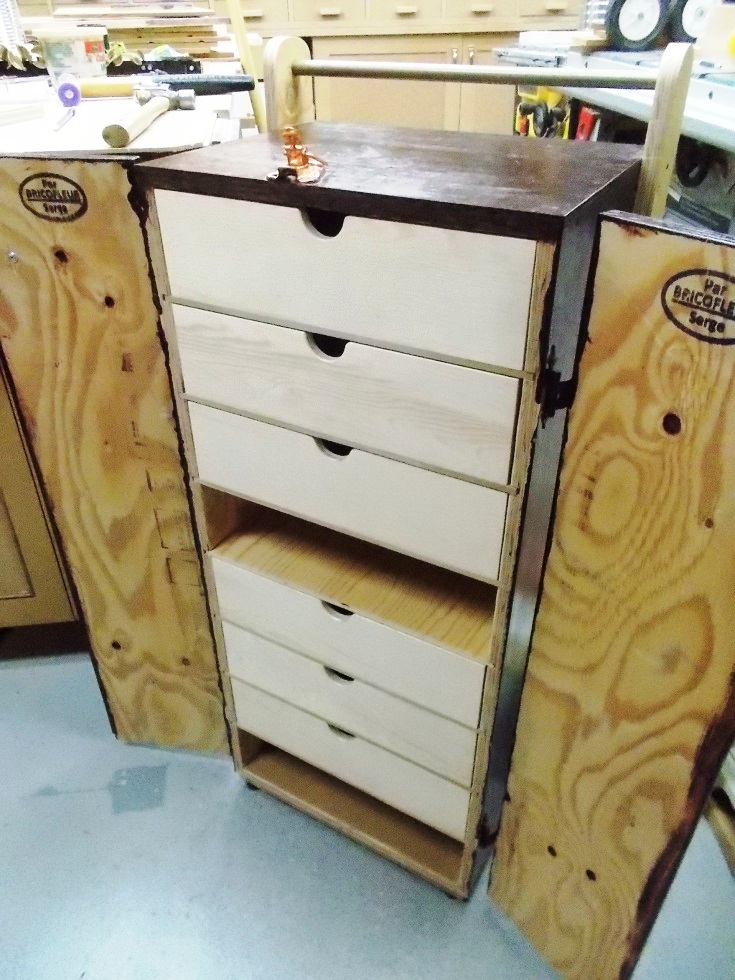 ---
Enfin, et une fois encore, je n'ai utilisé que ce que j'avais sous la main !
At last, and once again, I only used what I had on hand!
---
Soyez avisé ! Inscrivez-vous gratuitement (colonne droite).
Soyez toujours prudent et bon bricolage !
Be notified ! Register for free (right column).
Always be careful and Happy Woodworking !
---