Pour ajouter les charnières, j'ai découpé des coins pour stabiliser la porte temporairement.
            (Cliquez sur les photos pour les agrandir sur une autre page)
To add hinges, I milled few wedges to temporarily freeze the door.
            (Click on pictures to enlarge on another tab)
---
---
Après avoir décidé où les placer, j'utilise du ruban pour marquer leur centre.
After making the decision where to put them, I'm using masking tape to mark their center.
---
---
---
---
Les quatre outils que j'ai choisis pour fixer la partie intérieure des charnières (penser espace restreint).
The four tools I chosen to attach the inner part of the hinges (think tight space).
---
J'utilise le miroir pour localiser le pointeau pour l'avant-trou.
I'm using the mirror to locate the awl for the pilot hole.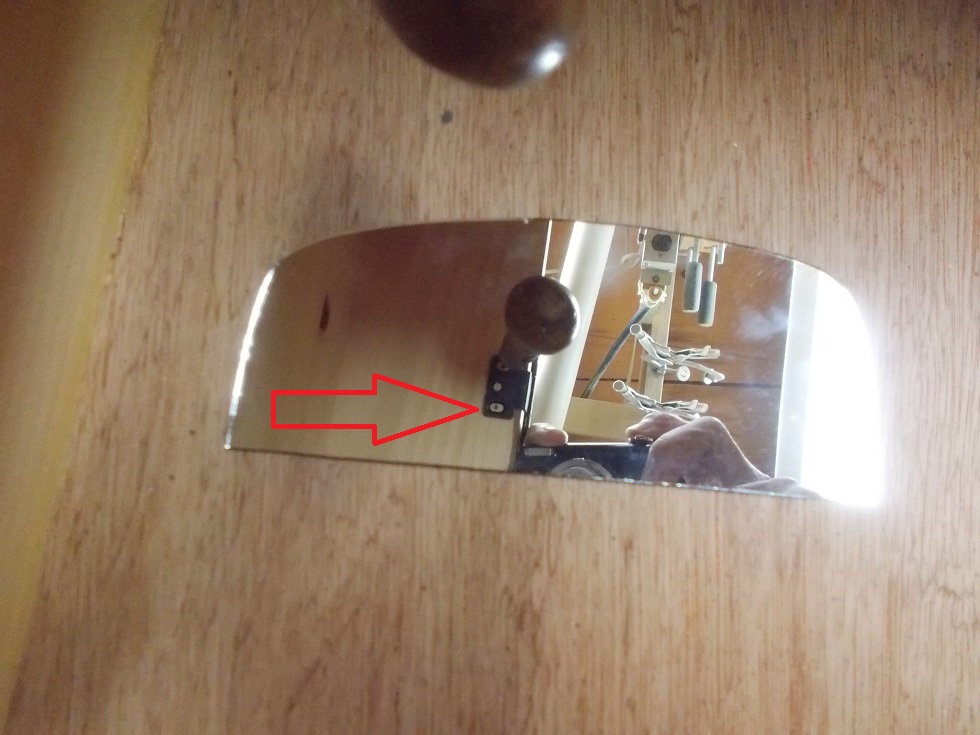 ---
Les charnières installées sur le champ de la façade, j'utilise les vis pour marquer leur emplacement exact sur la porte, pour ensuite percer les avant-trous et enfoncer les vis.
Remarquez les trous allongés (flèche) pour ajustement futur si requis.
The hinges installed onto the edge of the face frame, I'm using the screws to mark their exact location on the door, then drill the pilot holes and drive the screws in.
Notice the elongated holes (arrow) for further adjustment is required.
---
---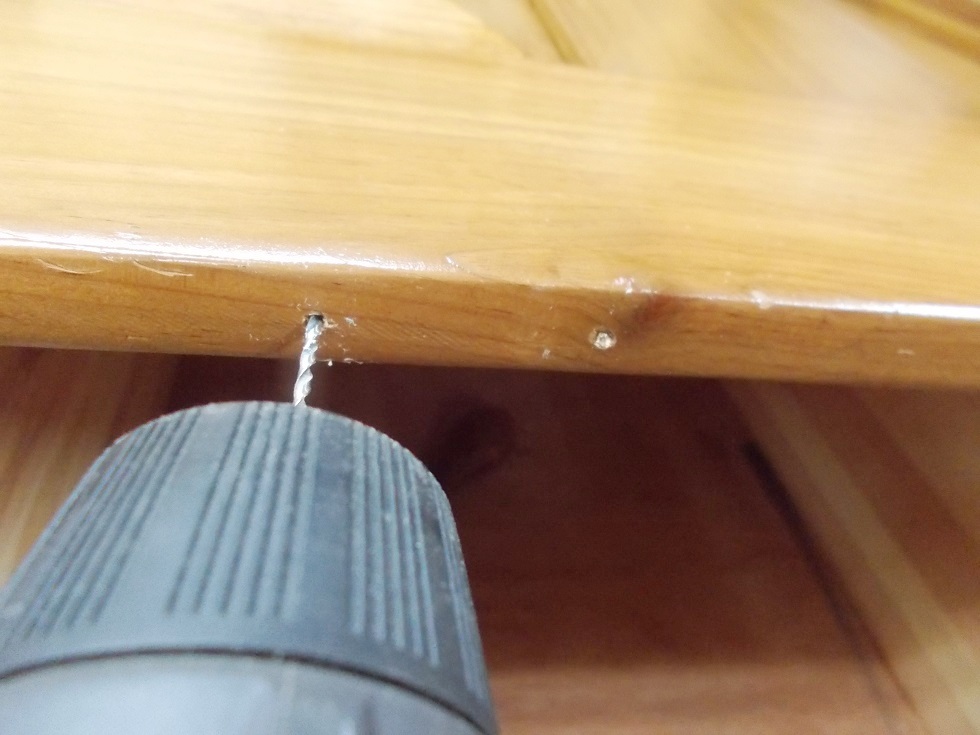 ---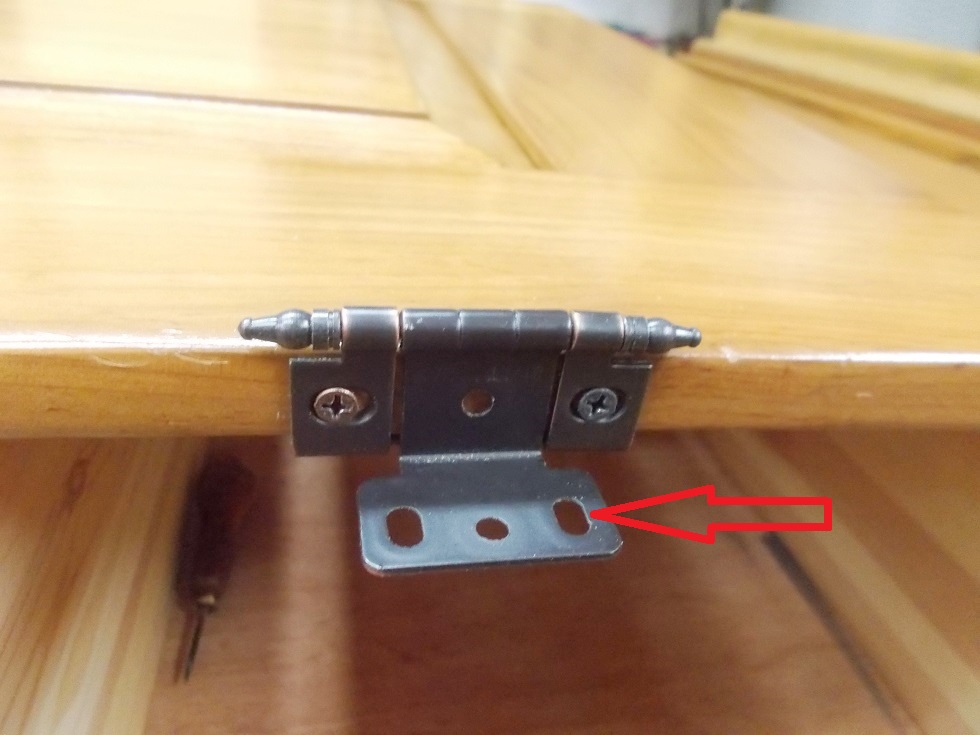 ---
N'ayant que deux mains (dommage), voici comment je me suis pris  pour stabiliser la porte, à chaque extrémité.
Having only two hands (too bad), here's how I managed to stabilize the door, on both ends.
---
Un coin près de chaque charnières me permettent de faire des ajustements précis.
A wedge close to each hinge allow me to make precise adjustments.
---
Une fois la porte bien placée, j'enfonce cette dernière vis (flèche), laquelle bloque le tout. Tel que mentionné, les autres trous étaient allongés pour permettre l'ajustement final.
Once the door well set in place, I'm driving this last screw (arrow), which locks down everything. As mentioned, the other holes were elongated to allow for final adjustment.
---
---
Oups, je vais tenter une réparation avec un crayon de cire, un pistolet à air chaud et un polissage.
Oops, I will try a repair using a wax crayon, an hot gun and a buffing.
---
---
---
C'est le mieux que j'ai pu faire.
This is the best I could do.
---
Voici donc le projet final, sur lequel j'ai aussi appliqué au chiffon quatre couches de polyuréthane à base d'eau.
Here is the final project, on which I've also wiped on four coats of water-base polyurethane.
---
---
---
---
Avez-vous remarqué le loquet et la poignée de bois ?
Did you notice the wooden latch and handle?
---
J'ai voulu énumérer et démontrer toutes les étapes qui, vues une à la fois, sont en fait très simples. Il existe des méthodes plus traditionnelles, et ardues, mais je crois que celles que j'ai présentées sont tout à fait réalisables et adéquates. Le plus difficile à mon avis est d'oser, de se faire confiance, d'avoir le temps et surtout la patience pour bien réaliser chacune des étapes, et tel que j'ai vécu, avoir l'humilité et le courage de corriger les erreurs ou défauts rencontrés au cours du processus, si possible bien entendu.
Laissez moi savoir si tous ces détails ont été utiles et/ou aidants ? Merci.
I wanted to list and demonstrate all the steps which, taken one at a time, are actually very simple. There are more traditional and arduous methods, but I believe that those I have presented are quite feasible and adequate. The most difficult thing in my opinion is to dare, to trust yourself, to have the time and above all the patience to carry out each of the stages well, and as I have lived, to have the humility and the courage to correct errors or defects encountered during the process, if possible of course.
Let me know if all those details have been useful and/or helpful? Thank you.
---
Soyez avisé ! Inscrivez-vous gratuitement (colonne droite).
Soyez toujours prudent et bon bricolage !
Be notified ! Register for free (right column).
Always be careful and Happy Woodworking !
---