Avant de procéder au collage des panneaux flottants, j'ai pris soin de protéger la tige d'acier des serre-joints avec du ruban plastique adhésif.
            (Cliquez sur les photos pour les agrandir sur une autre page)
Before proceeding gluing the floating panels, I took care protecting the clamp steel bars by applying plastic adhesive tape.
            (Click on pictures to enlarge on another tab)
---
---
---
La fraise que j'ai choisie pour profiler le périmètre des panneaux flottants.
The router bit I chose to mill the perimeter of the floating panels.
---
Pour une telle tâche, ma table horizontale maison (lien) est idéale.
For such task, my homemade horizontal router table (link) is ideal.
---
Petit à petit, je hausse la fraise jusqu'au résultat parfait (cercle) sur une chute d'un panneau.
Little by little, I raise the bit until a perfect result (circle) on a panel scrap piece.
---
---
Une fois la hauteur finale établie, j'ajoute une butée.
Once the final height established, I add a stop block.
---
Une fois sec, j'ai remarqué que le panneau inférieur avait tordu (flèche).
Once dry, I noticed the lower panel had twisted (arrow).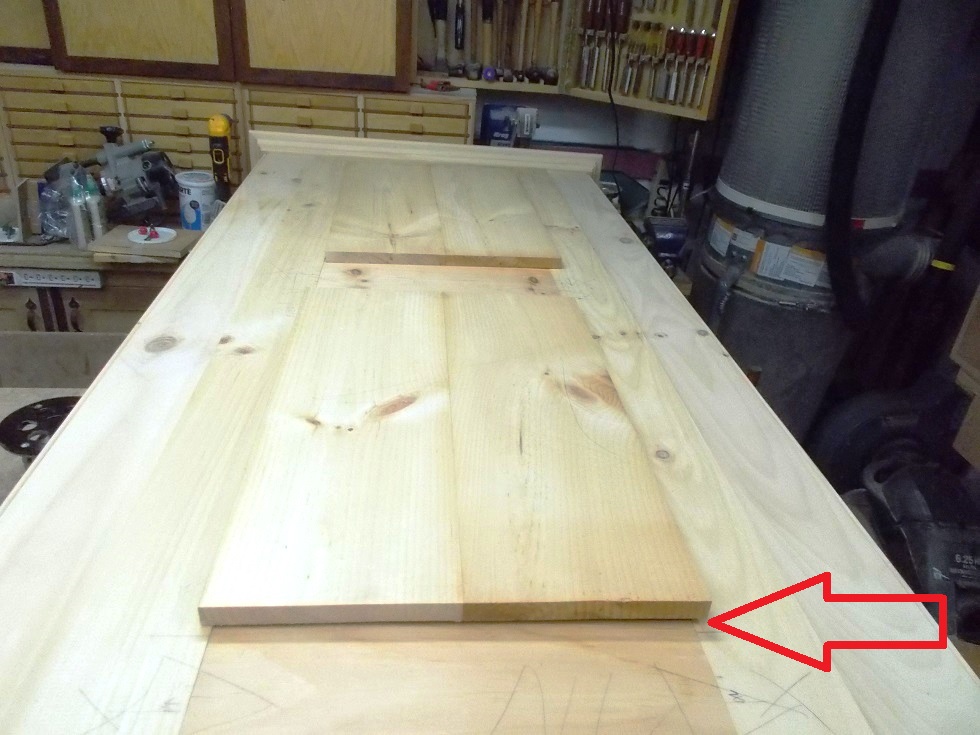 ---
Compte tenu que ce panneau pourrait faire tordre la porte entière une fois assemblée, j'ai refait un autre panneau, mais cette fois-ci utilisant trois  pièces au lieu de deux.
Ce qui doit d'être fait mérite d'être bien fait !
Since this panel could twist the entire door when assembled, I've done another panel, but this time using three boards instead of two.
What needs to be done worth to be done right!
---
Pour confirmer mes notes, je vérifie à nouveau la largeur finale des panneaux.
To confirm my notes, I'm checking once again the panel final width.
---
Mon coupe panneaux maison, soigneusement fabriqué, assure l'équerrage d'une extrémité.
My homemade panel cutting sled, carefully  made, insures one end to be square.
---
Pour l'autre extrémité, longueur finale, j'utilise le guide parallèle de la scie.
For the other end, final length, I'm using the table saw rip fence.
---
Maintenant, le ponçage.
Now, the sanding.
---
J'utilise un linge imbibé d'hydrate de méthyle, lequel ne redresse pas le grain du bois, pour m'assurer qu'il n'y a pas de marque de ponçage.
My using a rag saturated with denatured alcohol, which doesn't raise the wood grain, to make sure there are no sanding marks.
---
Puisque la hauteur de la fraise est actuellement à sa position finale (chute d'essai), je dois reculer le support d'ajustement de la hauteur (flèche), et ainsi abaisser la fraise.
Since the router bit height is currently set to its final position (test scrap), I must back up the height adjustment support (arrow), hence lowering the bit.
---
---
Ici on peut constater que la fraise est plus basse. Notez le couvre-oreilles et le masque.
Here you can observe the lowered bit. Notice the earmuff and the dust mask.
---
J'utilise cette jauge multifonctions pour suivre mon progrès.
I'm using this setup bar to follow my progress.
---
---
Puisque la butée est atteinte et que le panneau est encore un tantinet épais, j'ajoute du papier pour peaufiner la profondeur de coupe.
Since the stop has been reached and the panel is still a tiny bit thick, I'm adding paper to fine tune the cut depth.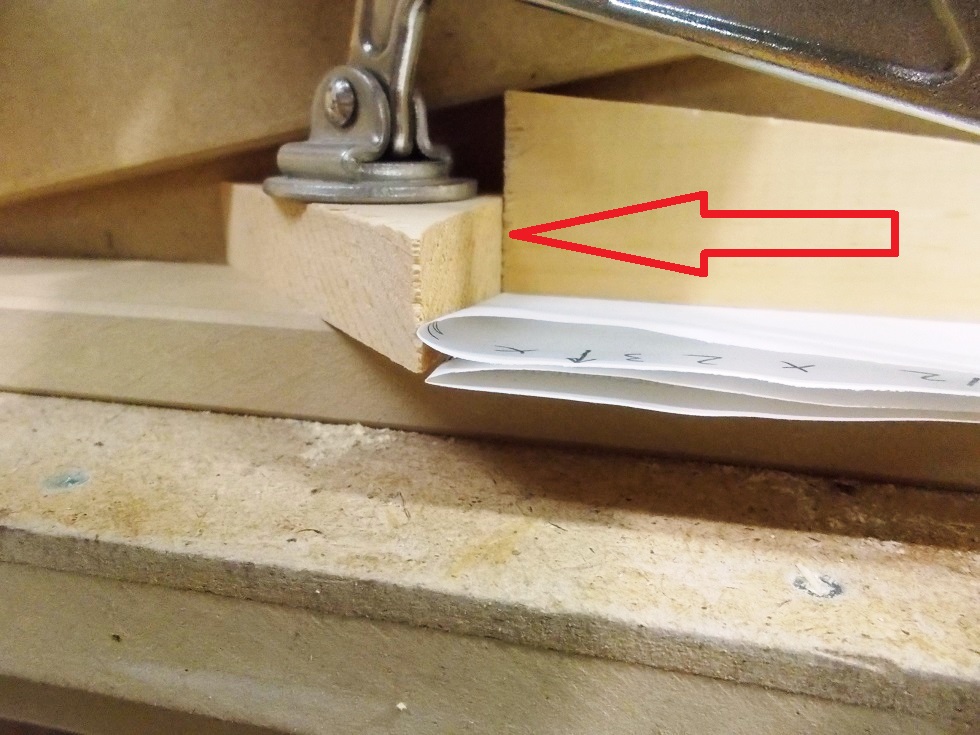 ---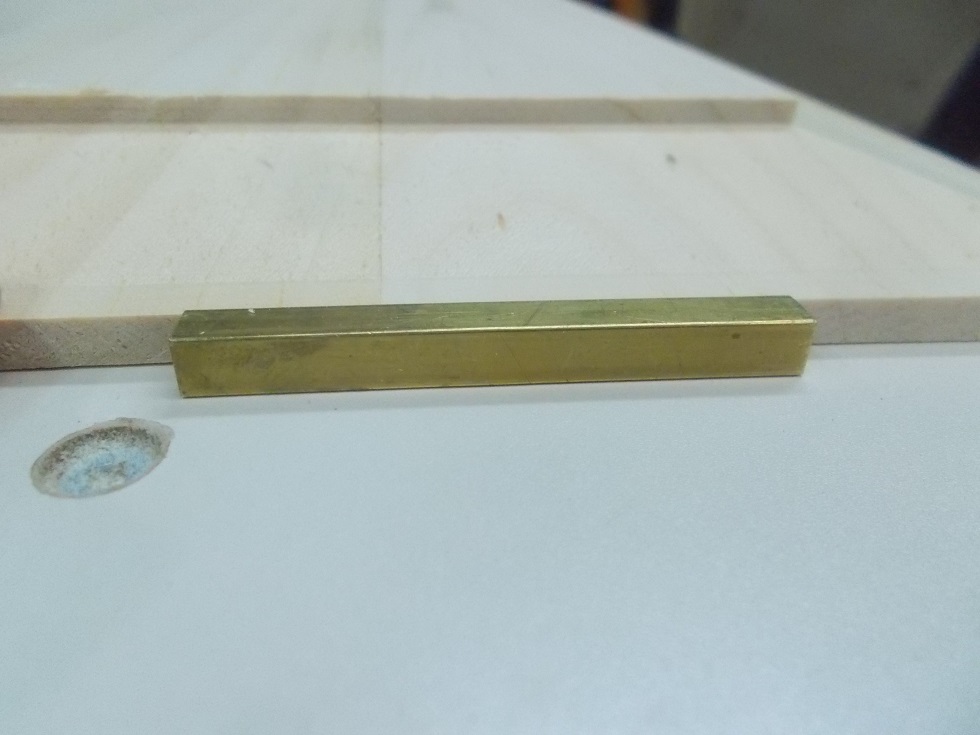 ---
Quelle satisfaction !
What a satisfaction!
---
À suivre…
Inscrivez-vous gratuitement en haut à droite pour être avisé.
To continue…
Register free at the upper right to be notified.
---