Aujourd'hui la porte, en commençant par le cadre avec ces quatre planches.
            (Cliquez sur les photos pour les agrandir sur une autre page)
Today the door, starting by the frame using those four boards.
            (Click on pictures to enlarge on another tab)
---
Les côtés des planches étant irréguliers (flèche), mon guide maison, bien assujetti contre le guide parallèle du banc de scie (cercles), m'est encore une fois utile, sinon indispensable pour de telles longueurs.
The edges of the boards being irregular (arrow), my homemade guide, well secured against the rip fence of the table saw (circles), is handy once again, if not indispensable for such length.
---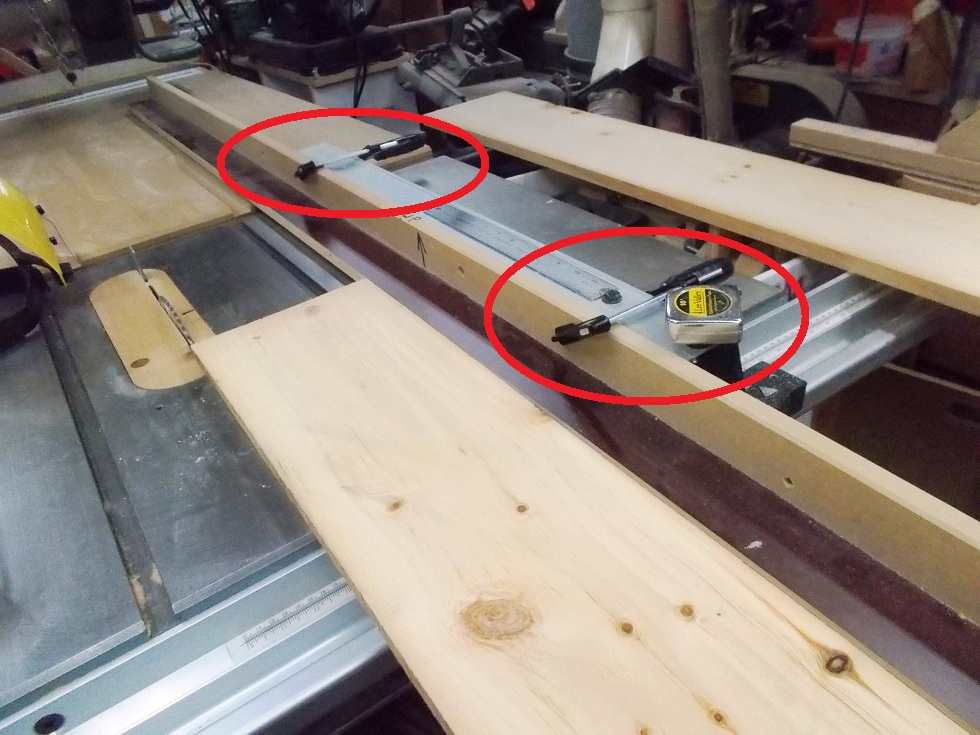 ---
Un côté bien droit, je peux maintenant couper en largeur.
One side straight, now I can rip it to width.
---
En place, je trace où couper en longueur approximative.
Set in place, I mark where to cut to approximate length.
---
J'ai encore en main ce gabarit que j'ai fabriqué en 2017 pour excaver les mortaises avec une toupie (défonceuse), une bague de gabarit et la fraise appropriée (habituellement 1/3 de l'épaisseur de la planche).
I still have on hand this jig I made in 2017 to excavate mortises with a router, a guide bushing and the appropriate bit (usually 1/3 the thickness of the board).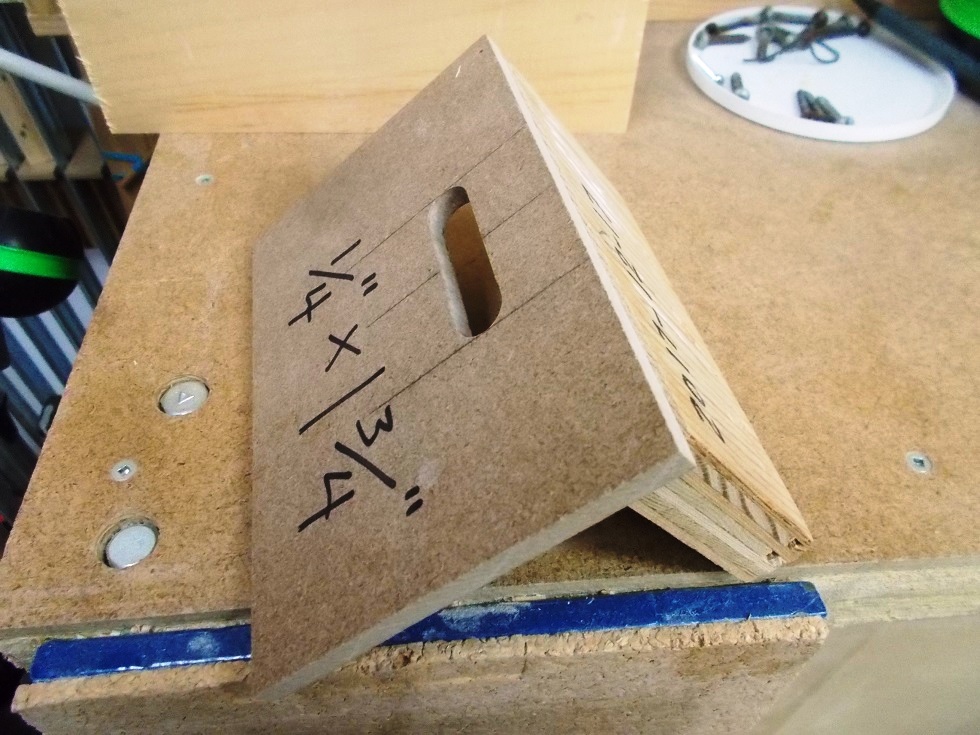 ---
---
---
J'ajuste la butée de profondeur de ma toupie tout en ajoutant un espace pour recueillir la colle qui sera poussée au fond des mortaises.
I'm setting the depth stop of my router while adding a gap to collect the glue that will be compressed down the mortises.
---
Un premier essai avec une chute des montants (penser même épaisseur), pressée dans l'étau avec le gabarit. Remarquez mon simple support pour la toupie, requis ici pour stabilité parce que la bague de gabarit dépasse la semelle.
A first test using a scarp from the stile (think same thickness), squeezed in the vise along with the jig. Notice my simple router stand, here required for stability because the guide bushing projects below the base plate.
---
Il faut aspirer ou souffler la poussière après chaque trou.
Vac or blow the dust out after each hole.
---
---
Suit la pièce adjacente pour un essai complet.
Follows the adjacent part for a complete test.
---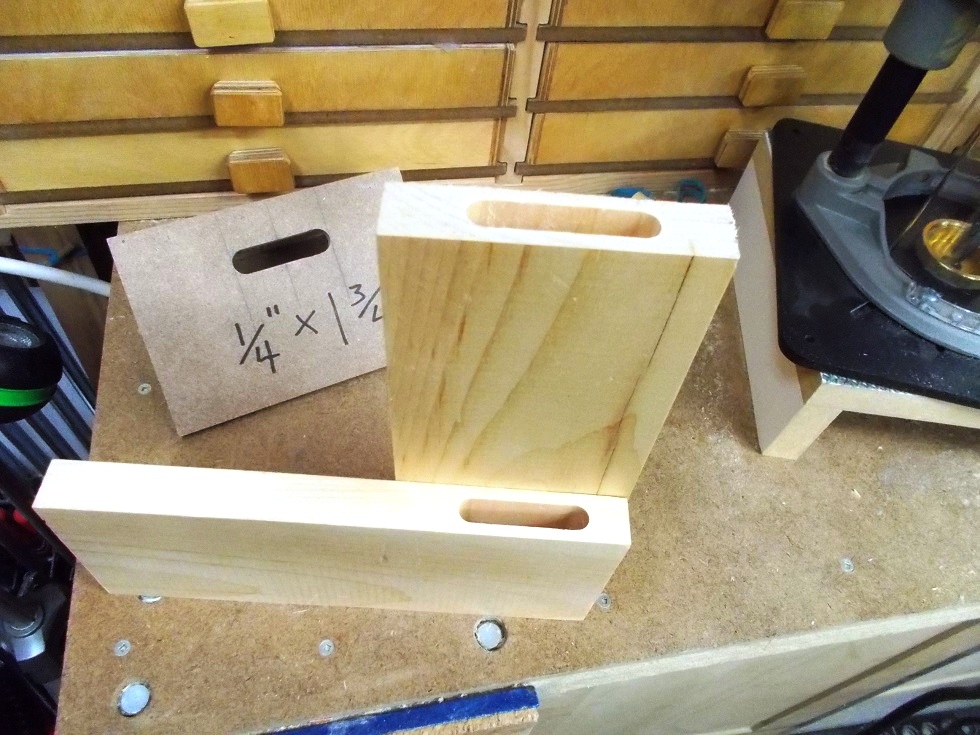 ---
J'ai fabriqué des tenons flottants en bois dur, à grain longitudinal (flèche), en prenant soin qu'ils soient de la même épaisseur des mortaises, mais un peu moins large pour ajustement futur et mouvement du bois s'il y a lieu. Notez également les extrémités arrondies.
I milled floating tenons from hard wood, straight grain (arrow), taking care they are the same thickness as the mortises, but a bit narrower for future adjustment and wood movement if required. Notice as well the rounded ends.
---
Ça marche, en autant que les faces soient au même niveau (dernière photo).
It works, according the faces are on the same level (last photo).
---
---
À suivre…
Inscrivez-vous gratuitement en haut à droite pour être avisé.
To continue…
Register free at the upper right to be notified.
---