Pour couper les moulures, mon gabarit maison est idéal pour les angles de 45° requis.
(Cliquez sur les photos pour les agrandir sur une autre page.)
To cut the moldings, my homemade jig is ideal for the required 45° cuts.
(Click on pictures to enlarge on another tab.)
---
---
Les moulures supérieures latérales étant temporairement fixées, je peux peaufiner les coupes de celle de la façade.
The upper side moldings temporarily secured, I can fine tune the front one cuts.
---
---
Un léger ajustement/déplacement et je peux poursuivre.
I small adjustment/move and I can keep going.
---
Les vis cachées sont une option facile, rapide et efficace.
Pocket hole screws are an easy, quick and effective option.
---
---
J'ai ajouté un tasseau temporaire (flèche) pour supporter l'ensemble lors de clouage.
I added a temporary cleat (arrow) to support the assembly while nailing.
---
Je coupe les côtés à longueur finale au banc de scie et je cloue cet ensemble par le dessus de la carcasse.
I'm cutting the sides to final length on the table saw and I nail the assembly from the top of the carcass.
---
Pour éviter les clous, et également respecter le mouvement du bois, je colle les autres moulures sous le périmètre de la précédente. Toutefois, plusieurs pinces sont requises.
To avoid using nails, as well respecting the wood movement, I glue the remaining moldings under the perimeter of the previous one. However, several clamps are required.
---
---
---
Précaution et patience = satisfaction.
Precaution and patience = satisfaction.
---
---
J'ai découpé quatre pieds de bois dur pour supporter l'armoire. Les coins inférieurs sont biseautés pour éviter l'éclatement des fibres si l'armoire est glissée sur le sol.
I cut four hard wood feet to support the armoire. The lower corners are chamfered to prevent wood fibers from splinting is the armoire is moved on the floor.
---
Les pieds sont dimensionnés afin qu'ils dépassent la base de la carcasse (cercles).
The feet are sized so they will protrude from the base of the carcass (circles).
---
Une coupe circulaire ajoutera la touche finale aux montants de la façade.
A circle cut will add the final touch to the face frame uprights.
---
Ici j'utilise une scie sauteuse et ma lame la plus fine.
Here I'm using a jigsaw and my finest blade.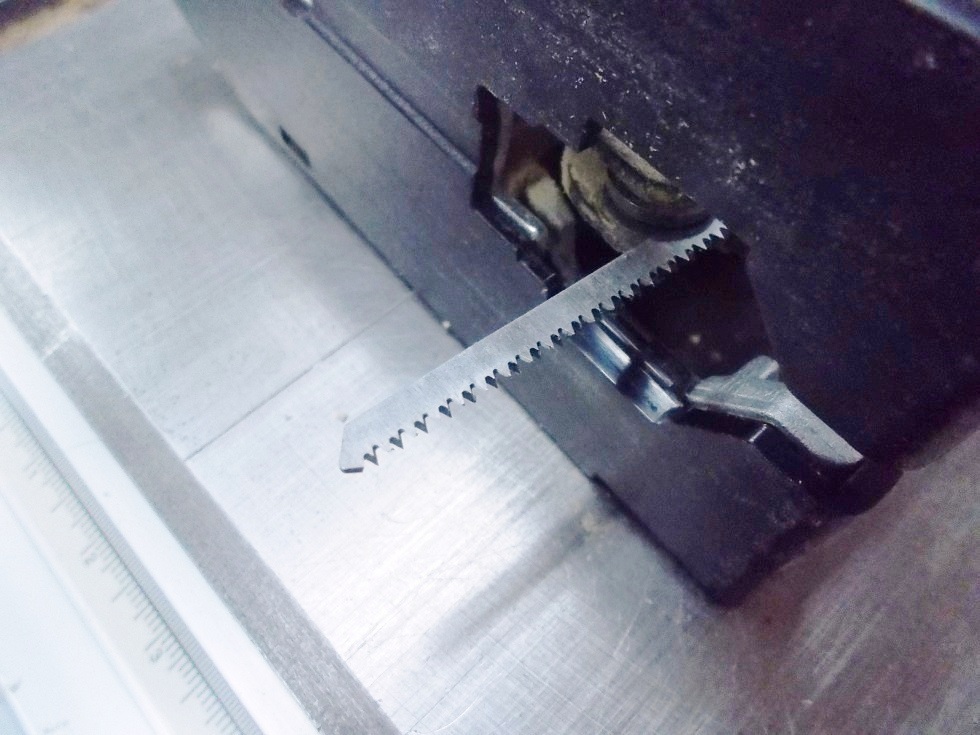 ---
Ici, rien de mieux que ma ponceuse à tambour portative maison.
Here, nothing is better than my homemade portable drum sander.
---
---
Finalement, une dernière étape, celle-ci uniquement esthétique, une peinture noire pour cacher le dessous lorsque vu de l'escalier adjacente.
Finally, a last step, this one being aesthetic only, a black paint to hide the underneath when viewed from the adjacent stairway.
---
---
À suivre…
Inscrivez-vous gratuitement en haut à droite pour être avisé.
To continue…
Register free at the upper right to be notified.
---