La carcasse sur le sol, je suis bien installé pour niveler la façade avec les côtés.
(Cliquez sur les photos pour les agrandir sur une autre page.)
Carcass on the floor, I'm all set to level the face frame even to the sides.
(Click on pictures to enlarge on another tab.)
---
Une lampe pour vérifier la progression avec l'œil et une carte de plastique pour le vérifier au toucher.
A light to check my progress with the eye and a plastic card to check it to the touch.
---
Je les garde pour remplir/garnir des boîtes cadeaux.
I keep them all to fill/garnish gift boxes.
---
Maintenant le ponçage, lequel une fois encore je vérifie avec une lampe. Une fois la finition appliquée, cette partie serait très apparente (flèche).
Now the sanding, which once again I check with a light. Once the finish applied, this part would be quite noticeable (arrow).
---
---
Maintenant une bordure avec la toupie (défonceuse) et cette fraise. Ici, un ajustement précis est requis.
Now a bead with the router and this bit. Here, fine tuning  is required.
---
Opérer une toupie exige la protection des yeux et des les oreilles. Lorsque je travaille aux niveaux des yeux, je préfère la visière qui couvre tout le visage. Remarquez aussi ma base maison (lien) sur laquelle est montée la toupie.
Operating a router requires eye and ear protection. When I work at eye level, I rather use a full face shield. Notice my homemade base (link) on which my router is mounted on.
---
Voici le résultat escompté après l'essai d'une passe à la verticale et une à l'horizontale. Les coins de l'armoire seront ainsi moins fragiles.
Here is the desired result after a test after one pass on the vertical and one horizontal. Therefore, the corners of the armoire will be less fragile.
---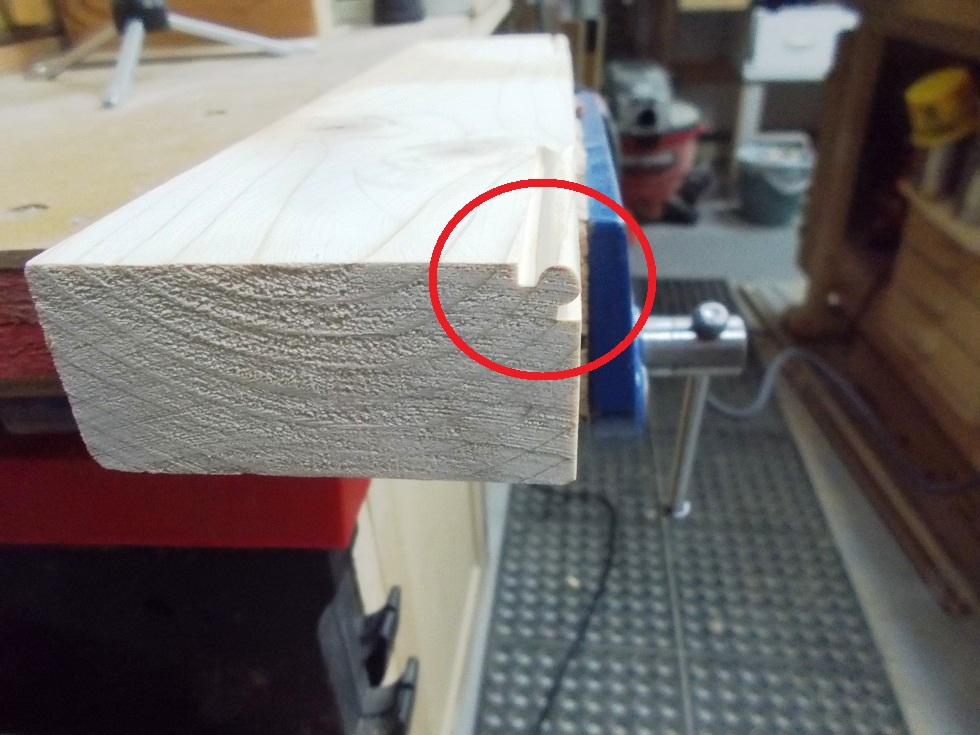 ---
Cette base maison stabilise ultimement cet outil pour façonner les bords.
This homemade base ultimately stabilize this tool while milling edges.
---
---
J'ai eu à rouler la carcasse sur le côté pour cette dernière passe.
I had to roll around the carcass on the side for this last pass.
---
Raffiné, et plus résistant.
Refined, and more resistant.
---
Un léger ponçage et cette partie est terminée.
A light sanding and this part is completed.
---
---
Maintenant, je vais fabriquer et façonner les moulures supérieures, débutant avec cette fraise insérée dans la table à toupie.
Now, I will make and mill the upper moldings, beginning with this bit installed in the router table.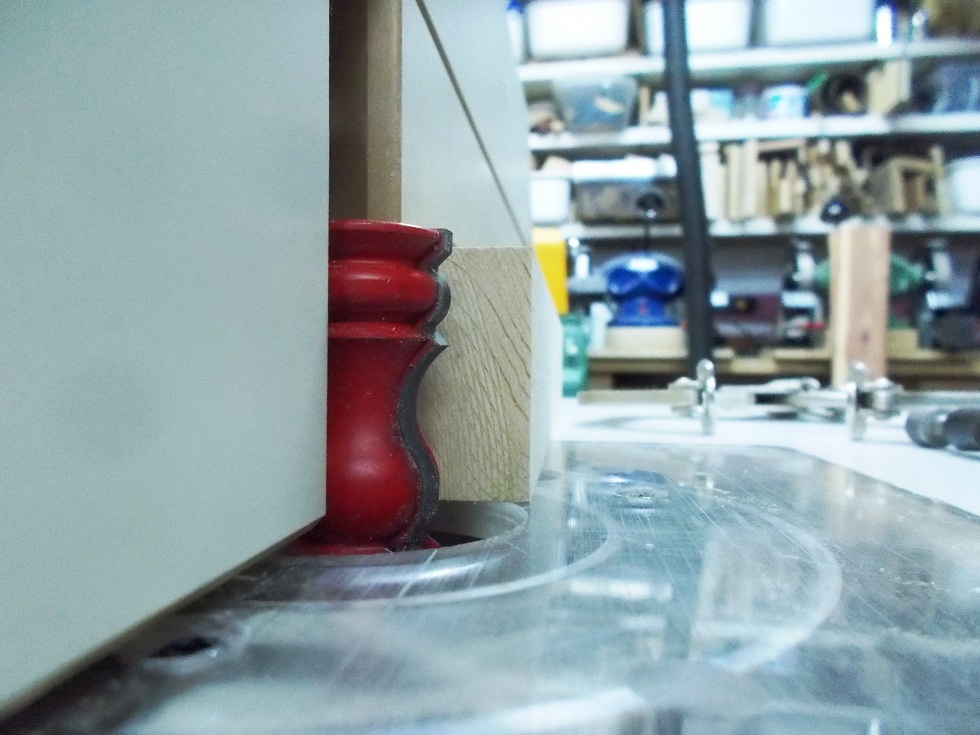 ---
Une seule passe (cercle) requise, avec les peignes adéquats et nécessaires.
A single pass (circle) required, with adequate and compulsory featherboards.
---
J'en ai assez pour la façade et les côtés.
I have enough for the face and the sides.
---
Une autre pièce à façonner, et une bonne occasion pour éliminer ce défaut.
Another piece to mill, and a good opportunity to get rid of this default.
---
---
Et une dernière pour combler ce vide.
And a last one to fill this void.
---
La fraise que j'ai choisie pour cette dernière moulure.
The bit I chose for this final molding.
---
---
---
Un petit changement pour améliorer l'ensemble final. L'avez-vous trouvé ?
A tiny change to make the final assembly more appealing. Did you find it?
---
---
À suivre…
Inscrivez-vous gratuitement en haut à droite pour être avisé.
To continue…
Register free at the upper right to be notified.
---