Pour refendre les montants de la façade, j'ai ajouté mon plus long guide de coupe au  guide parallèle du banc de scie.
Cliquez sur les photos pour les agrandir sur une autre page.
To rip the face frame uprights, I added my longest cutting guide against the rip fence of the table saw.
Click on pictures to enlarge on another tab.
---
Ce même guide sera également approprié pour dégauchir ces longues planches.
That same guide will also be appropriate to join such long boards.
---
Ensuite je coupe une extrémité d'équerre à la scie à onglets.
Then I cut one end square on the miter saw.
---
Tel que montré, pour le moment les montants surplombent les côtés.
As shown, for now the uprights overhang from the sides.
---
J'installe une butée (flèche) dans chaque coin.
I'm installing one stop block (arrow) on each corner.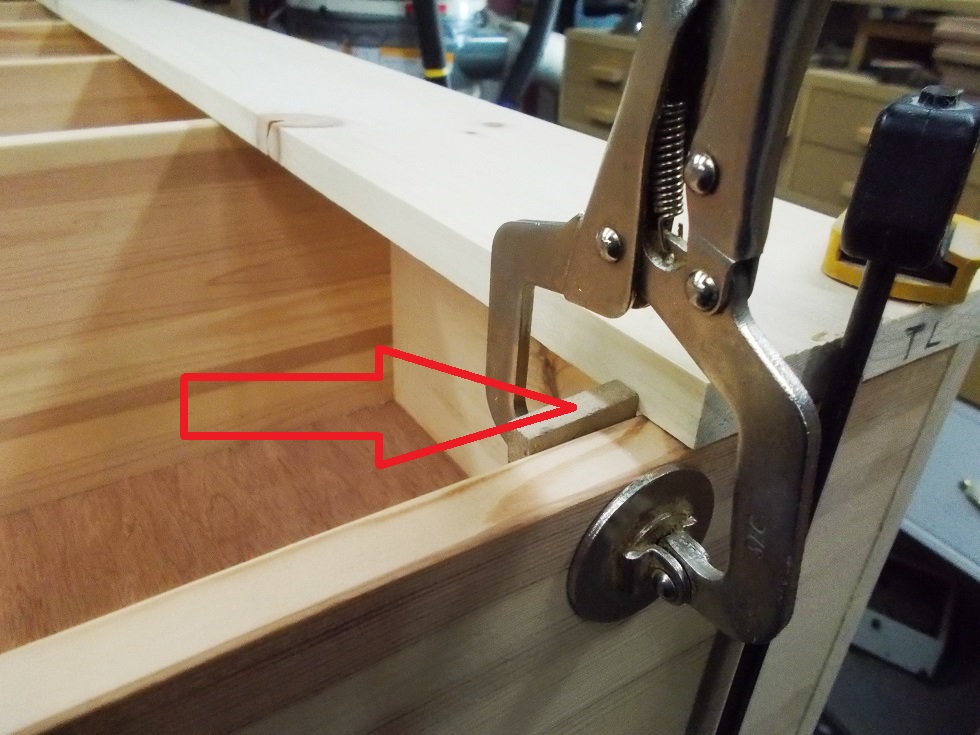 ---
---
Tel que vous avez sans doute remarqué, les champs nécessitent un ponçage, raison pour laquelle les planches sont maintenues entre ces deux poutres en H pour stabilité.
As you undoubtedly noticed, the edges require sanding, reason why the boards are held between those two H-beams for stability.
---
Une lampe de poche est idéale pour vérifier le progrès.
A flashlight is ideal to check the progress.
---
Maintenant, le réglage de la position finale avec un guide ajustable.
Now, setting the final position using an adjustable gauge.
---
---
Je perce des pochettes pour vis aux extrémités intérieures de la traverse supérieure.
I'm drilling screw pockets on both inner ends of the upper rail.
---
Collée et bien serrée, j'ai étendu la colle sur chaque joint, raison pour laquelle j'ai ajouté des feuilles de plastique (penser boîte de céréale) sous le cadre.
Glued and clamped, I spread glue on each joint, reason I added plastic sheets (think cereal box) under the frame.
---
En étant maintenant bien serrés, les joints ont démontrés ne pas parfaitement d'équerre, mais en ce bas monde rien n'est parfait. Ici c'est minime puisque je pourrai facilement ajuster lors de la fixation inférieure des montants, mais en gardant mon gabarit tel qu'il est réglé actuellement (cercle).
Now being very tight, the joints show not to be perfectly square, but in this world nothing is perfect. Here the gap is so little I'll be able to easily fix it, but only by keeping my jig as it is right now (circle).
---
---
---
C'est ma dernière occasion pour poncer le périmètre du cadre, suivi par le dépoussiérage avec ce chiffon collant dédié à cette tâche.
This is my last chance for sanding the casing perimeter, followed by wiping out the fine dust using this dedicated tack cloth.
---
---
Une fois encore j'utilise des cales (flèches) pour soutenir la façade le temps d'étendre la colle.
Once again I'm using risers (arrow) to hold the face frame while I spread the glue.
---
Pour ne pas avoir à boucher des trous, ici pas de clous, par contre beaucoup de serre-joints !
So I won't have to fill holes, no nails here, nevertheless many clamps!
---
Une fois séché, la façade est, devrais-je le dire, parfaitement d'équerre !
Once dry, the face frame, should I say here, perfectly square!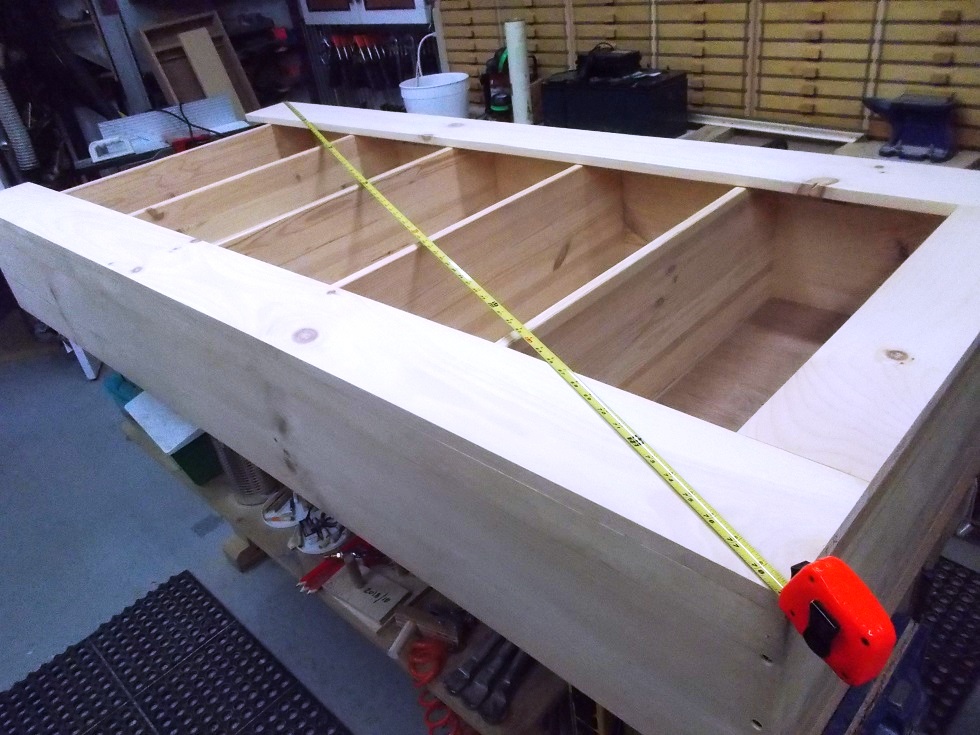 ---
À suivre…
Inscrivez-vous gratuitement en haut à droite pour être avisé.
To continue…
Register free at the upper right to be notified.
---