En comparant les diagonales, ici je vérifie si ce mince contreplaqué (1/4″ – 6 mm) est d'équerre avant de le fixer à l'arrière. Cliquez sur les photos pour les agrandir sur une autre page.
By comparing the diagonals, here I'm checking if this thin plywood (1/4″ – 6mm) is square before being fastened onto the back. Click on pictures to enlarge on another tab.
---
Compte tenu qu'il ne l'est pas, je choisi le coin qui l'est, à titre de référence pour les prochaines coupes.
Since it is not, I'm choosing the corner that it is, as a reference for upcoming  cuts.
---
Devant couper le contreplaqué en longueur avec une scie portative, j'utilise ma vieille et fidèle grille, déposée sur ma plus grande surface disponible.
Having to cut the plywood to length using a portable circular saw, I'm using my old and trusty grid, dropped on my larger available surface.
---
J'ai ponté cette chute afin d'assujettir mon guide de coupe maison et ainsi libérer la course de la scie.
I bridged this scrap to secure my homemade cutting guide, therefore free the path of the saw.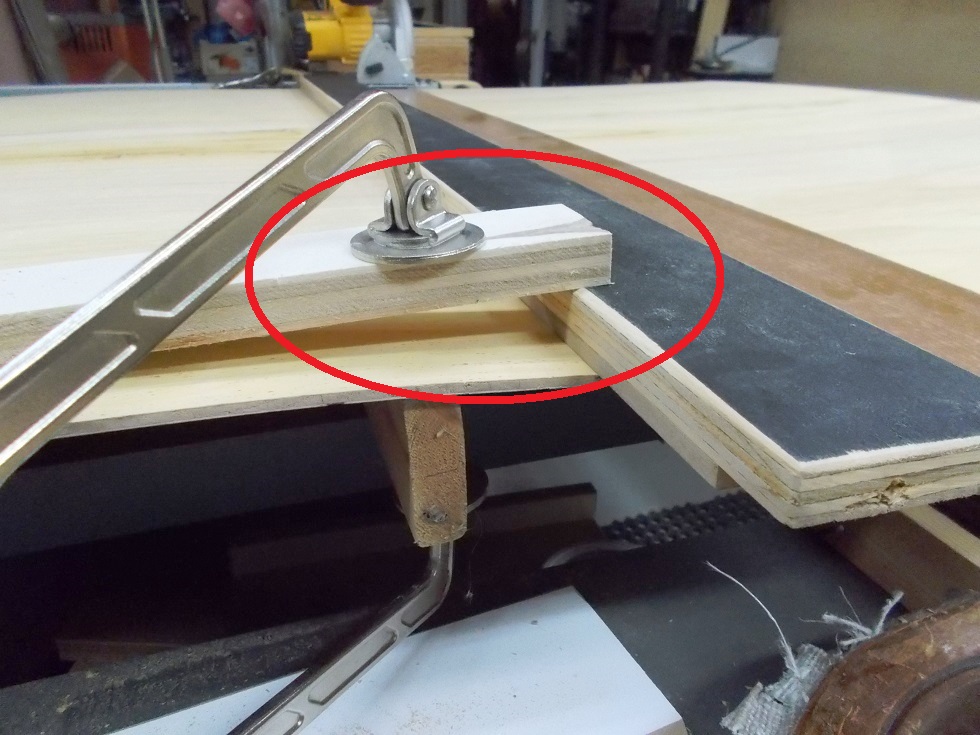 ---
Une pince fait le même travail à l'autre extrémité, tel que montré, et vérifié avec la scie.
A vise does the same job on the other end, as shown, and checked with the saw.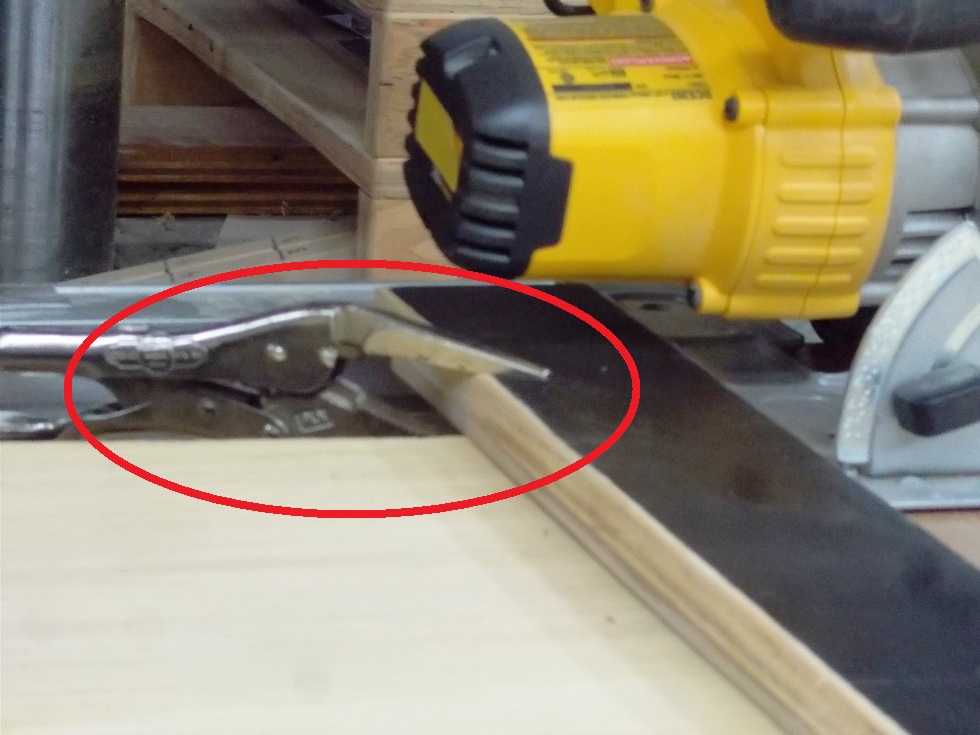 ---
Toute une  installation pour cette coupe unique !
Such a setup for this single cut!
---
Parce que je devrai travailler à bout de bras, j'utilise ce poussoir maison pour protéger mes doigts tout en gardant la scie bien appuyée sur le guide de coupe.
Because I'll have to work arms stretched, I'm using this homemade push block  to project my fingers while keeping the saw against the crosscut guide.
---
La partie de gauche est la chute.
The left part is the offcut.
---
Pour procéder à la refente au banc de scie, ici vous pouvez observer que j'ai haussé le caisson afin que le contreplaqué puisse glisser dessous. Quand on veut, on peut !
To proceed ripping the plywood on the table saw, here you can observe that I raised the casing so the plywood would slide under. When there's a will, there's a way!
---
Vue de l'autre extrémité.
View from the other end.
---
C'est fait. La chute est à droite.
It's done. The offcut is at right.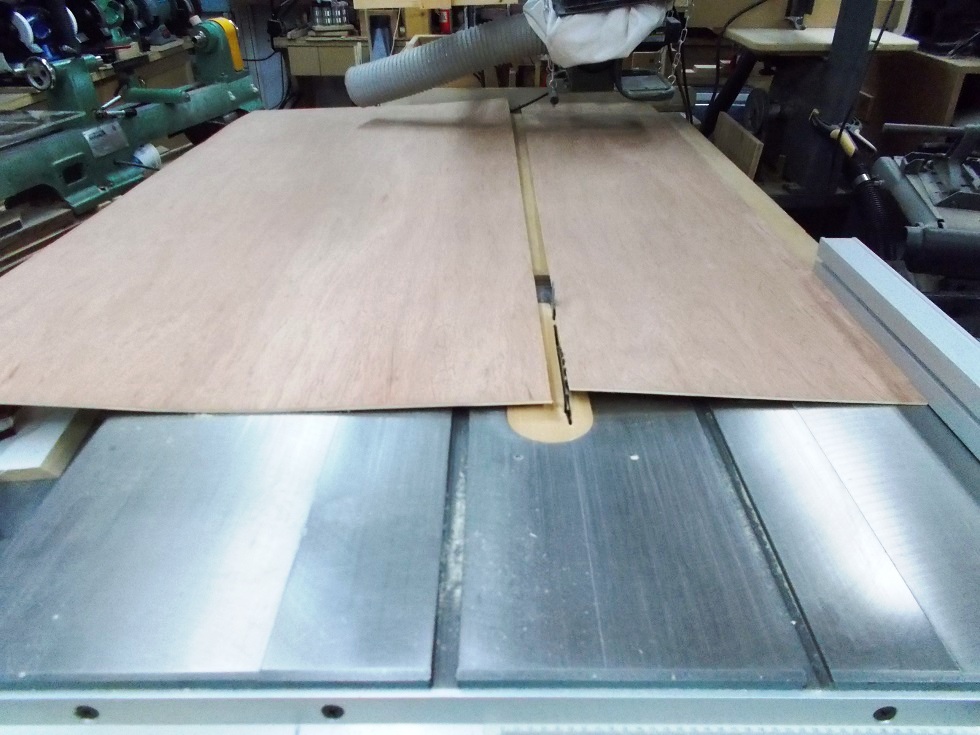 ---
J'ai étendu la colle et y déposé le contreplaqué arrière.
I spread the glue and dropped the back plywood.
---
---
Compte tenu que le contreplaqué est mince, je préfère utiliser des agrafes.
Since the plywood is thin, I rather use staples.
---
J'enlève aussitôt l'excès de colle.
I remove the excess glue at once.
---
Ces bidons remplis de sable assurent la pression durant le séchage de la colle.
Tel que mentionné préalablement, ces cercles rouges au bas de la photo montrent le genre de défauts que je voulais cachés.
Those containers filled with sand ensure down pressure while the glue dries.
As previously mentioned, those red circles at the bottom of the picture show the kind of defects I wanted to hide.
---
À suivre…
Inscrivez-vous gratuitement en haut à droite pour être avisé.
To continue…
Register free at the upper right to be notified.
---