J'utile mon plateau à tronçonner maison (lien) pour couper une extrémité des tablettes d'équerre.
I'm using my homemade crosscut sled (link) to cut one end of the shelves square.
---
Une butée (cercle), assujettie par un petit serre-joint, assure une longueur constante des tablettes.
A stop block (circle), secured with a small bar clamp, ensures the shelves even length.
---
Remarquez que j'ai bien identifié ce défaut, lequel je viens de remarqué, afin de m'assurer qu'il soit diriger vers l'arrière du châssis. Pas question de refendre cette partie, cette tablette serait alors plus étroite.
Notice that I properly identified that default, which I just been aware of, to ensure it will be set towards the back of the casing. No way I would rip that part off because that shelf would be narrower.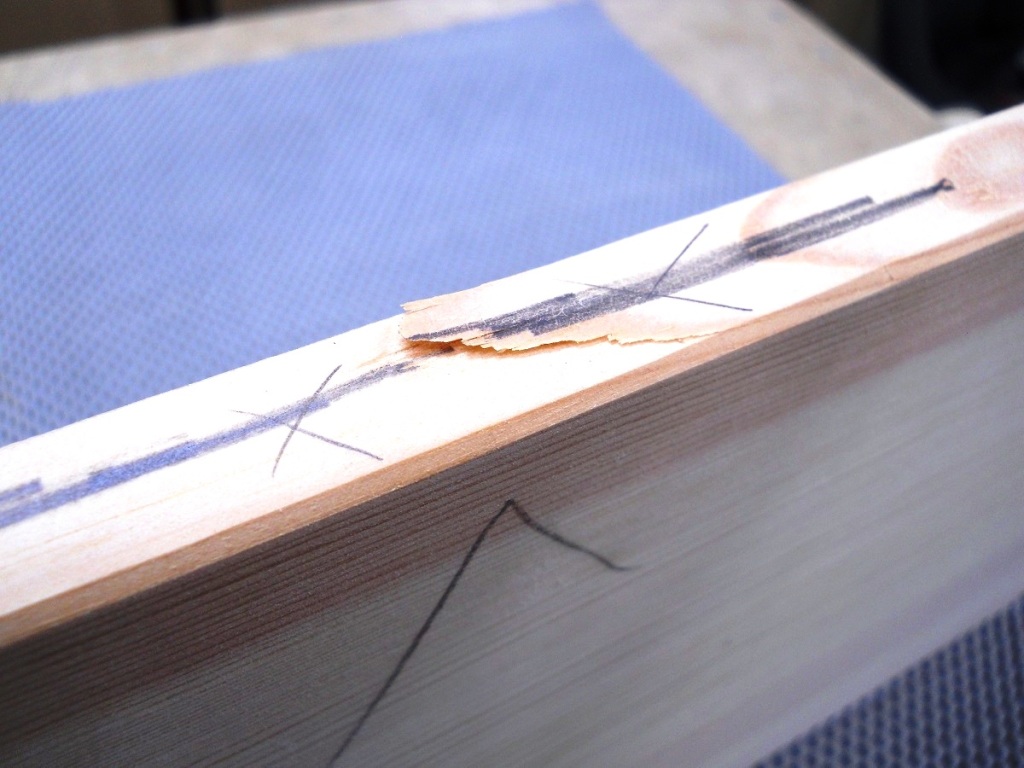 ---
Ici, ponçage final des tablettes avant l'assemblage.
Here, shelves final sanding before assembly.
---
J'allais oublier d'arrondir les façades.
I almost forgot rounding over the front edges.
---
J'ai numéroté l'emplacement de chaque tablette en regard défauts et du grain du bois.
I numbered the location of each shelf in regards of default and wood grain.
---
J'essaie quelque chose de nouveau, soit de combiner des vis cachées aux rainures, et ici je fais un test de profondeur vs longueur de vis.
I'm trying something new, being combining pocket screws and dadoes, and here I'm making a depth test vs. screw length.
---
---
Le test étant concluant, je perce les tablettes à l'aide de mon gabarit pour vis cachées.
The test being conclusive, I'm drilling the shelves using my pocket hole jig.
---
Avant de poursuivre, je procède au ponçage final de l'intérieur des côtés, suivi de l'assemblage à sec pour confirmer que tout est impeccable.
Before moving on, I proceed with the inner sides final sanding , followed by a dry assembly to confirm everything fits perfectly.
---
---
Les fibres du bois étant dans le même sens, je peux également ajouter une colle.
Wood fibers running the same way, I can add glue as well.
---
J'utilise une paille de plastique flexible pour gratter la colle (et non l'aspirer !).
I'm using a flexible plastic straw to scrape the glue  (not sucking!).
---
Un côté d'assemblé.
One side assembled.
---
Il est plus commode de renverser le tout pour fixer l'autre côté.
It is more convenient to turn everything upside down to fix the other side.
---
Pour attacher le dessus, je peux adjoindre des vis (flèches) à la colle car une moulure les couvrira. Remarquez les deux serre-joints qui maintiennent les joints serrés (cercle).
To attach the top shelf, I can combine screws (arrows) to the glue because a molding with cover them. Notice the two clamps that keep the joints tight (circle).
---
---
Ces deux serre-joints en diagonal figent le caisson d'équerre pendant que la colle sèche.
Those two diagonal bar clamps keep the casing square while the glue dries.
---
À suivre…
Inscrivez-vous gratuitement en haut à droite pour être avisé.
To continue…
Register free at the upper right to be notified.
---